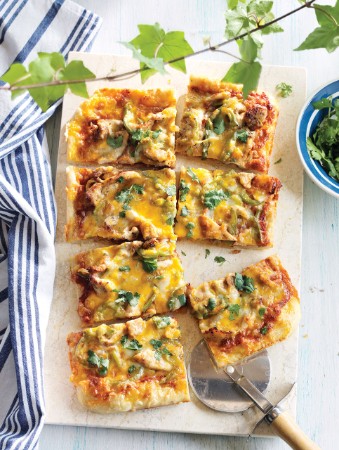 BY: Tonia Wilson-Vuksanovic
Any extra Chipotle Tomato Sauce can be used to make delicious Sloppy Joes. Or turn it into a great chili by adding it to a mix of sautéed ground beef, peppers and onions along with some kidney beans.
1 store-bought pizza dough, about
1 1⁄2 lbs (750 g), at room temperature
2 tbsp (25 mL) vegetable oil
3⁄4 lb (375 g) skinless, boneless chicken breast, sliced into thin strips
1 tbsp (15 mL) ground cumin
Salt and pepper to taste
1 cup (250 mL) white onion, thinly sliced
1 cup (250 mL) green pepper, thinly sliced
1 tbsp (15 mL) garlic, finely chopped
1 cup (250 mL) Chipotle Tomato Sauce (recipe follows)
1 cup (250 mL) cheddar cheese, grated
1 cup (250 mL) Monterey Jack cheese, grated
1⁄4 cup (50 mL) fresh cilantro, coarsely chopped
1. Preheat oven to 450°F (230°C).

2. On a lightly floured work surface roll pizza dough out to fully cover a 12 x 17-inch (30 x 43-cm) baking sheet.

3. In a large sauté pan, heat 1 tbsp (15 mL) vegetable oil over medium high, add chicken, cumin, salt and pepper to taste and cook until golden brown, about 8 minutes. Set chicken aside in a bowl.

4. In the same pan add the rest of the oil, add onions and peppers. Cook for 5 minutes and add garlic, continue cooking until onions are golden and peppers are tender, about 3 minutes more. Place chicken in pan and combine with peppers and onions, season to taste and set aside to cool slightly.

5. Evenly spread pizza dough with Chipotle Tomato Sauce.

6. Distribute chicken mixture over sauce and then sprinkle evenly with the cheddar and Monterey Jack cheese.

7. Bake in oven on the lower rack for 20 minutes or until both cheese and crust are golden, remove from oven and sprinkle with cilantro.

8. Let rest a few minutes before slicing.Slice into 8 pieces and serve.

CHIPOTLE TOMATO SAUCE
Chipotle peppers are sold at most grocery stores: you'll find them with the Mexican products and they come in small tins. Freeze any extra peppers and use them to add zip to soups, stews and sauces.

1 tbsp (15 mL) vegetable oil
1 cup (250 mL) onion, finely chopped
1 tbsp (15 mL) tomato paste
2 tsp (10 mL) ground cumin
1 tbsp (15 mL) garlic, finely chopped
1 can diced tomatoes (796 mL) with juices
3 chipotle peppers
1⁄2 cup (125 mL) smoky style barbecue sauce
1 tsp (5 mL) dried oregano leaves
2 tsp (10 mL) salt
1⁄4 cup (50 mL) water
1 In a medium pot, heat vegetable oil over medium heat. Add onions and cook until translucent, about 8 minutes. Add tomato paste, cumin and garlic and cook for 1 minute more.

2 Add tomatoes, chipotle peppers, barbecue sauce, oregano, salt and water.

3 Simmer over low heat for 30 minutes, let cool slightly and purée.
SHARE