Eshun's Biscotti
Temps des Fêtes 2004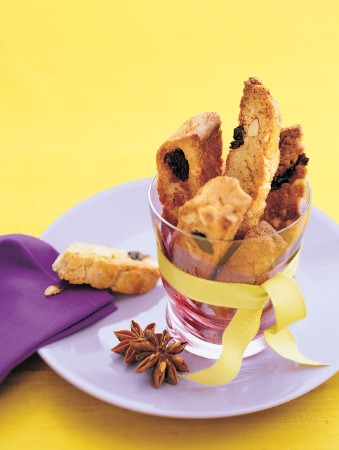 Eshun's Biscotti
Temps des Fêtes 2004
BY: Lucy Waverman
Food & Drink's recipe tester, Eshun Mott made these biscotti part of her repetoire as a pastry chef. They are slightly softer than some and have an outstanding taste. For an elegant edge replace the whipping cream in the glaze with 2 tbsp (25 mL) Frangelico.
8 oz (250 g) skinned hazelnuts
1 cup (250 mL) dried cherries or cranberries
1 cup (250 mL) granulated sugar
½ cup (125 mL) brown sugar
2½ cups (625 mL) all-purpose flour
½ tsp (2 mL) salt
1 tbsp (15 mL) coarsely ground anise
1 tsp (5 mL) baking powder
½ cup (125 mL) unsalted butter
2 eggs

Glaze
1 egg yolk
1 tbsp (15 mL) whipping cream
1. Line 2 cookie sheets with parchment paper.

2. Coarsely chop nuts and cherries. Set aside. Mix together nuts, dried cherries, granulated sugar, brown sugar, flour, anise, salt, and baking powder. Cut in butter until mixture resembles small peas. Add eggs and blend thoroughly. Add in nuts and dried cherries. This can all be done in the food processor, if desired.

3. Remove mixture from bowl and roll into two 12-inch (30-cm) long logs with your hands. Flatten slightly. Place each log on 1 cookie sheet. Chill for an hour or until firm.

4. Preheat oven to 350°F (180°C). Mix together egg yolk and cream, brush over logs. Bake for 45 minutes or until logs are firm to the touch. Reverse baking sheets after 25 minutes. Cool for 5 minutes.

5. With a serrated kitchen knife, slice on the diagonal, into ½-inch (1-cm) thick slices, lay flat and bake 10 to 15 minutes more at 350°F (180°C) or until brown. Cool on wire racks.
Makes about 4 dozen biscotti
SHARE