Eggs Baked in Toast Cups with Spinach, Asiago & Pancetta
Spring 2016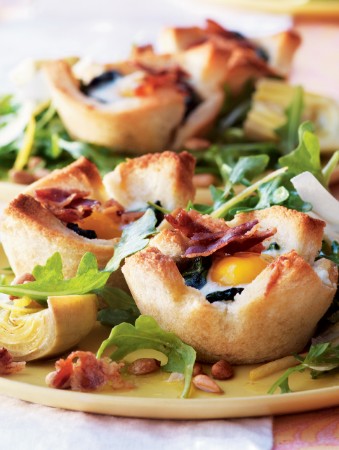 Eggs Baked in Toast Cups with Spinach, Asiago & Pancetta
Spring 2016
BY: Eric Vellend
A breakfast sandwich in muffin form, these brunch cups feature garlicky spinach, sharp Asiago and a perfectly baked egg in a buttered toast shell. Most in-house supermarket bakeries make a white sandwich loaf that's perfect for this recipe. Do make a note of the small egg size: large eggs are too big for these cups.
SPINACH
1 tbsp (15 mL) extra virgin olive oil
1 clove garlic, minced
1 container (140 g) washed baby spinach
2 tbsp (30 mL) water
Salt and freshly ground pepper, to taste

PANCETTA
12 thin slices pancetta

EGG CUPS
2 tbsp (30 mL) unsalted butter, softened
14 slices good-quality white sandwich bread
2 tbsp (30 mL) unsalted butter, melted
¾ cup (175 mL) grated Asiago cheese
12 small eggs
Hot sauce for serving
1 For spinach, heat oil in a large pot over medium-heat. Add garlic. Cook, stirring, 1 minute. Add spinach, water, salt and pepper. Raise heat to high. Cook, turning spinach over with tongs, until just wilted, 1 to 2 minutes. Transfer to plate to cool.

2 For pancetta, preheat oven to 400°F (200°C).

3 Place pancetta without overlapping on a parchment-lined baking sheet. Bake until brown and crisp, 8 to 10 minutes. Remove from oven and cool slightly. Transfer to paper towel to drain. (Pancetta will keep, covered, layered in paper towel and refrigerated for 2 days. Microwave on high for 20 seconds to crisp them back up.)

4 For egg cups, preheat oven to 375°F (190°C). Generously butter a 12-cup muffin tin, using about ½ tsp (2 mL) of butter per cup.

5 With a rolling pin, roll 12 bread slices into squares—if the slices are rectangular, roll from long end to long end. Trim crusts. Carefully line tins with bread. (Extra bread is to patch any holes.) Brush bread edges with melted butter. Place 1 tbsp (15 mL) cheese in each cup. Make a ring of spinach around cheese so there is a well for egg. Working one at a time, crack an egg into a ramekin, then pour into cups.

6 Bake on lower shelf until whites are set but yolk is still runny, 20 minutes. Briefly cool, then transfer to serving platter. Crumble pancetta over eggs and serve with hot sauce.
SHARE