Eggnog for Two
Holiday 2020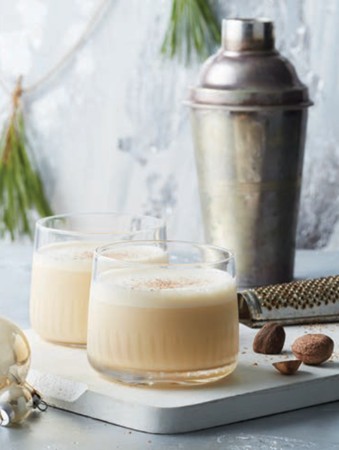 Eggnog for Two
Holiday 2020
BY: Eric Vellend
Enjoy rich, creamy eggnog for two without all the work that comes with big batch 'nog. (The recipe can also be easily halved for one.) Straining the drink through a fine sieve is an essential step for a perfectly smooth texture.
1½ oz good-quality aged rum
1½ oz Cognac
1½ oz Simple Syrup (recipe follows)
2 oz heavy cream
Scant 1/2 tsp (2 mL) pure vanilla extract
2 large very fresh eggs
Whole nutmeg
1. Place all ingredients except nutmeg into a large cocktail shaker. Shake vigorously for 5 seconds. Fill three-quarters with ice. Shake vigorously for 15 seconds. Double strain through a fine sieve into 2 chilled 6- to 8-oz lowball or eggnog glasses. Using a rasp, grate a little nutmeg overtop each drink. Serve immediately.
SIMPLE SYRUP

Bring 1 cup (250 mL) water to a boil and stir in 1 cup (250 mL) refined white sugar until dissolved. Pour into jar and let cool. If storing, cover and refrigerate. Remaining syrup will keep in the fridge for up to a month.

Makes 1½ cups (375 mL)
SHARE