Easy Lime Curd
Early Summer 2019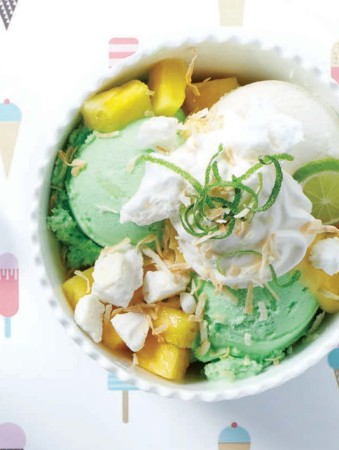 Easy Lime Curd
Early Summer 2019
BY: Julia Aitken
This recipe makes more than you need for the Key Lime Pie Sundaes, but leftovers (which can be refrigerated for up to two weeks) are delectable slathered on hot toast or warm tea biscuits or as a filling for baked tartlet shells.
4 to 5 large limes
6 egg yolks
1 whole egg
1 can (300 mL) sweetened condensed milk
1 Finely grate 1 tsp (5 mL) zest from 1 lime and set aside. Squeeze juice from all limes through a fine sieve into a glass measure to yield ¾ cup (175 mL).

2 Pour lime juice into a small saucepan and bring just to a simmer over medium heat.

3 Meanwhile, lightly beat egg yolks and whole egg in a medium bowl until combined.

4 Whisk 1 tbsp (15 mL) hot lime juice into egg mixture until combined. Whisk in another 1.tbsp (15 mL) hot lime juice.

5 Reduce heat to medium-low. Whisking constantly, whisk egg mixture into lime juice in saucepan. Cook, whisking constantly, until mixture has thickened and is smooth, about 2 minutes.

6 Rub lime juice mixture through a fine sieve into a clean medium bowl. Let cool to room temperature, then cover and chill.

7 Whisk condensed milk into lime juice mixture until well combined. Stir in reserved lime zest. Cover and refrigerate until ready to serve.
Makes about 2 cups (500 mL)
SHARE