Duck and Ginger Wonton Soup
Winter 2006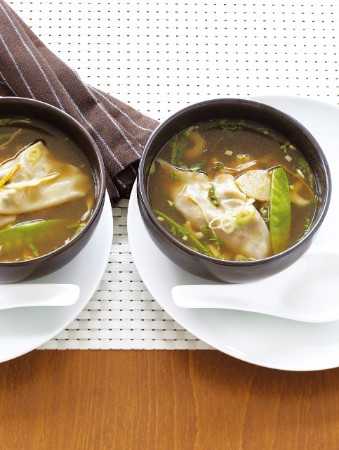 Duck and Ginger Wonton Soup
Winter 2006
BY: Dana Speers
Don't be intimidated by the thought of making wontons from scratch. They're easy to make! You can either use leftover duck meat, buy duck meat from your butcher or substitute chicken for the duck. Baby bok choy and sambal oelek (freshly ground chili paste) are both available at Asian food markets.
Wontons
¼ cup (50 mL) finely chopped, cooked duck meat
½ green onion, finely chopped
¼ cup (50 mL) finely chopped green cabbage
½ tsp (2 mL) soy sauce
1 egg white
24 wonton wrappers
1 tbsp (15 mL) cornstarch mixed with 1 tbsp (15 mL) water

Soup
½ tsp (2 mL) vegetable oil
2 cloves garlic, thinly sliced
One 2-inch (5-cm) piece ginger, peeled and thinly sliced
½ tsp (2 mL) Chinese 5-spice powder
1 tbsp (15 mL) rice wine vinegar
½ tsp (2 mL) soy sauce
8 cups (2 L) duck stock, or chicken stock
¼ cup (50 mL) shredded green cabbage
3 baby bok choy, thinly sliced
1 carrot, peeled and shredded
36 snow peas, ends removed
¼ tsp (1 mL) sambal oelek (ground fresh chili paste)

Garnish
3 green onions, thinly sliced
1. To make the wontons, in a medium bowl, combine the duck meat, green onion, cabbage, soy sauce and egg white. Lay 4 wonton wrappers on a cutting board. Put ½ tsp (2 mL) duck filling in centre of each wrapper. With your finger, coat the edges of wrappers with a bit of cornstarch water mixture. Fold wrappers over to form triangles and press to seal. Set aside on a plate. Repeat with remaining filling and wrappers. Refrigerate.

2. To make the soup, heat oil in a medium saucepan over low heat. Add garlic and ginger and cook until soft, about 2 to 3 minutes. Sprinkle with Chinese 5-spice powder and add rice wine vinegar and soy sauce. Add stock. Increase heat to medium-high and bring to a boil.

3. Reduce heat to medium and add cabbage, bok choy, carrot, snow peas and sambal oelek. Simmer 2 to 3 minutes. Add wontons and continue simmering 2 to 3 minutes. Serve sprinkled with the green onions.
SHARE