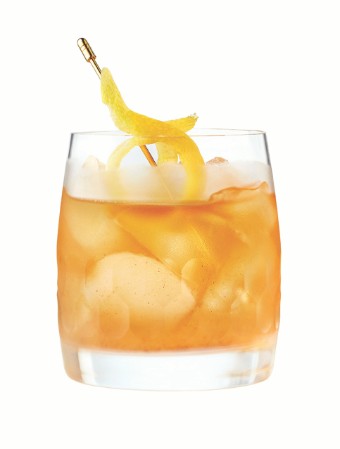 BY: Jayson Frederick
Canadian whisky has just the right complexity for this spiced reimagining of the classic Gold Rush cocktail. The lemonade is delicious on its own as an alcohol-free sipper.
1½ oz Canadian whisky, such as J.P. Wiser's Deluxe Whisky
4 to 6 oz Cardamom Lemonade (see recipe below)
½ oz Allspice Syrup (see recipe below)
Long strip lemon peel, for garnish
1 star anise, for garnish
Add whisky, lemonade and syrup to an ice-filled rocks glass. Stir to mix. Garnish by floating lemon peel topped with star anise on cocktail.
Cardamom Lemonade
1 cup (250 mL) granulated sugar
1 cup (250 mL) boiling water
1 cup (250 mL) freshly squeezed lemon juice
½ cup (125 mL) cardamom pods
3 cups (750 mL) cold water
Add sugar to a heatproof pitcher or bowl. Carefully pour in boiling water. Stir until sugar dissolves. Stir in lemon juice and set aside. Set a small saucepan over medium heat. Add cardamom pods and heat, carefully shaking pan occasionally and being careful not to burn cardamom, until cardamom is very fragrant or begins to make a popping noise, 3 to 5 minutes. Stir into lemon juice mixture. Refrigerate for 24 hours, allowing flavours to infuse. Fine-strain into a large pitcher and top with cold water.
Allspice Syrup
1 cup (250 mL) granulated sugar
1 cup (250 mL) water
½ star anise
2-inch (5 cm) cinnamon stick
3 pinches freshly ground nutmeg
2 whole cloves
3 black peppercorns
3 allspice berries
Add sugar, water and spices to a small saucepan over medium heat and bring to a simmer. Remove from heat and let cool. Fine-strain. Syrup will keep well, refrigerated in a sealed container, for up to 2 weeks.
Makes about 1½ cups (375 mL)
SHARE