Devilled Eggs with Smoked Salmon and Everything Bagel Spice
Début de l'été 2019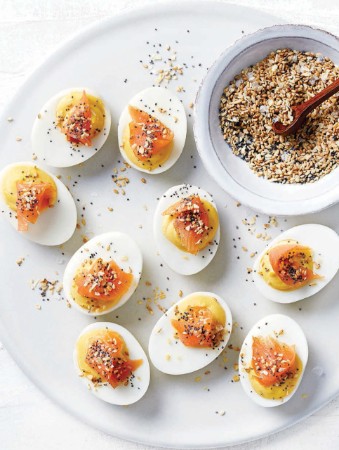 Devilled Eggs with Smoked Salmon and Everything Bagel Spice
Début de l'été 2019
BY: Eric Vellend
Everything bagel spice adds textural pop and a big hit of flavour to creamy devilled eggs draped in smoked salmon. Some everything spice recipes call for caraway seeds, however their unique flavour make the mix less versatile. To toast sesame seeds, cook them in a dry skillet over medium heat, stirring often, until golden brown, about 5 minutes.
EVERYTHING BAGEL SPICE
2 tbsp (30 mL) sesame seeds, toasted
2 tbsp (30 mL) poppy seeds
1 tbsp (15 mL) dehydrated minced onion
1 tbsp (15 mL) dehydrated minced garlic
1½ tsp (7 mL) flaky sea salt, preferably Maldon

DEVILLED EGGS
6 large eggs, at room temperature
¼ cup (60 mL) mayonnaise (reduced fat is fine)
2 tsp (10 mL) Dijon mustard
1 tsp (5 mL) white wine vinegar
1 dash hot sauce
2 oz (55 g) thinly sliced smoked salmon, cut into strips
1 For the everything bagel spice, combine ingredients in a bowl and mix thoroughly. Transfer to an airtight container. Store at room temperature for up to 3 months.

2 For the devilled eggs, place eggs in a medium pot. Cover with cold water. Place pot over high heat. When it comes to a boil, cover and remove from heat. Let stand 15 minutes. Drain off hot water. Run eggs under cold water for 1…minute. Let stand covered in cold water for 20 minutes. Drain and peel.

3 Halve eggs lengthwise, cleaning knife with wet paper towel after each cut. Carefully remove yolks and place in a small bowl. Mash yolks with a fork. Add mayo, Dijon, vinegar and hot sauce. Blend with fork until smooth.

4 Using a pastry bag with no tip, pipe filling into egg whites. (Alternatively, you could use a spoon.) Cover and refrigerate up to 8 hours.

5 When ready to serve, place eggs on a serving platter. Drape a strip of smoked salmon over each egg. Sprinkle with some everything bagel spice and serve.
SHARE