Delicata Squash Filled with Picadillo
Holiday 2016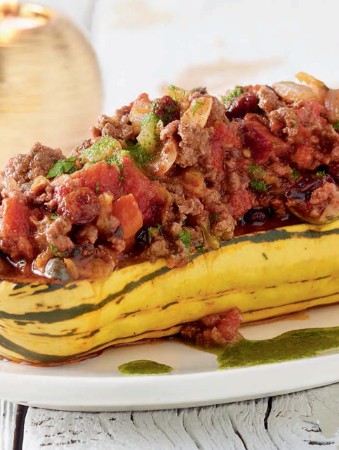 Delicata Squash Filled with Picadillo
Holiday 2016
BY: Lucy Waverman
Picadillo is a Cuban dish of meat, spices, raisins and olives. Often served with plantains, it makes a superb filling for squash. Serve one-half as an appetizer or both halves for a main course. Reserve the squash seeds and roast them for a good snack. Cilantro oil will keep for two months in the refrigerator. Acorn squash works as a substitute in this recipe. Serve with rice and beans.
CILANTRO OIL
1 bunch cilantro, leaves and stems intact
1 cup (250 mL) olive oil
¼ tsp (1 mL) chili flakes
Salt

SPICE MIXTURE
1 tbsp (15 mL) ground cumin
1 tbsp (15 mL) dried oregano
1 tsp (5 mL) ground cinnamon
½ tsp (2 mL) chili flakes

SQUASH
2 delicata squashes, halved lengthwise
Olive oil for brushing
Salt and freshly ground pepper

PICADILLO
2 tbsp (30 mL) olive oil
1 medium onion chopped, about 1 cup (250 mL)
1 tbsp (15 mL) chopped garlic
1 lb (500 g) ground beef
1 spicy chorizo sausage, diced
Salt and freshly ground pepper
2 bay leaves
½ cup (125 mL) white wine
1 cup (250 mL) chopped canned tomatoes
1 tbsp (15 mL) tomato paste
1 tbsp (15 mL) red wine vinegar
½ cup (125 mL) raisins
¼ cup (60 mL) chopped pimento-stuffed green olives
2 tbsp (30 mL) capers
Salt and freshly ground pepper
2 tbsp (30 mL) chopped cilantro
1 Bring a pot of water to boil. Add cilantro for 10 seconds. Drain immediately and refresh under tap with cold water  until cold. Wrap in paper towel and pat dry. Add to blender along with oil, chili flakes and pinch of salt. Purée until smooth. Reserve.

2 Combine ingredients for spice mixture. Reserve.

3 Scoop seeds out of squash. Use a melon baller to scoop out as much of the inside as you can to make a cavity for the picadillo. Reserve squash shells and scooped squash flesh separately.

4 Preheat oven to 400°F (200°C).

5 Brush inside of shells lightly with oil and season lightly with salt and pepper. Sprinkle inside of shells with 2 tsp  (10 mL) of spice mixture. Place on a baking sheet and bake face-up for 30 minutes or until softened. Reserve.

6 Heat oil in a large sauté pan over medium heat. Add the onion and sauté for 2 minutes. Add the garlic and continue to cook until onions are very soft, about 2 more minutes. Add the ground beef and chorizo and season with salt, pepper and remaining spice mixture. Cook until meat is no longer pink, about 3 minutes. Stir in reserved squash flesh and bay leaves.

7 Add white wine, bring to a boil and cook for 2 minutes, then add tomatoes, tomato paste and vinegar. Cover,  reduce heat to low and simmer for 15 minutes or until sauce is thick and meat is cooked. Stir in raisins, olives and capers and simmer another 10 minutes or until flavours are combined. Season well with salt and pepper and remove bay leaves. Stir in cilantro then pile into squash shells. If desired, reheat in oven for 10 minutes. Drizzle cilantro oil around plate before serving.
Serves 4 as an appetizer, or 2 as a main
SHARE