Dark Chocolate Pistachio Fudge
Holiday 2003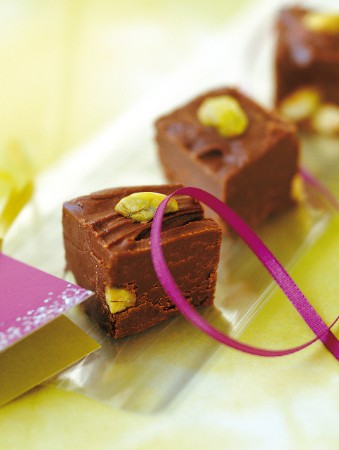 Dark Chocolate Pistachio Fudge
Holiday 2003
BY: Dana Speers
This opulent creamy fudge can be kept, refrigerated, in an airtight container for up to 1 week. Miniature gold foil cups are available at baking supply stores.
6 oz (175 g) bittersweet chocolate, chopped
1½ oz (45 g) unsweetened chocolate, chopped
1/3 cup (75 mL) jarred marshmallow
¾ tsp (4 mL) pure vanilla extract
1 1/3 cups (325 mL) sugar
¾ cup (175 mL) sweetened condensed milk
1/3 cup (75 mL) water
1/3 cup (75 mL) whipping cream
¼ cup (50 mL) salted butter, softened
¾ cup (175 mL) unsalted pistachio halves


Garnish
36 pistachio halves
1. Line a 9 x 5-inch (23 x 12-cm) loaf pan with foil, allowing the foil to hang over the sides.

2. Place chopped chocolate, marshmallow and vanilla extract in a large glass or stainless-steel bowl.

3. In a medium pot over medium heat, heat sugar, condensed milk, water, whipping cream and butter until sugar is dissolved. Increase heat to high and bring mixture to a rolling boil. Decrease heat to medium-high and cook mixture, stirring gently and brushing sides of pot with a wet pastry brush to prevent sugar crystals from forming. Continue boiling until a candy thermometer registers 232ºF (111ºC).

4. Pour boiling milk mixture over chocolate mixture in bowl. Stir until chocolate is melted and mixture starts to thicken (mixture should be smooth and glossy). Stir in pistachios and scrape mixture into prepared pan. Smooth the top with a rubber spatula. Place pan in refrigerator and chill for about 3 hours or until mixture is firm.

5. Unmould fudge by carefully lifting foil from loaf pan. Peel foil from sides of fudge and cut fudge into 36 pieces. Place the fudge in miniature foil cups (if desired) and press a pistachio half on each piece. Serve at room temperature.
Serves 12 (3 pieces per person)
SHARE