Dark Chocolate Orange Pound Cake with Chocolate Orange Glaze
Holiday 2017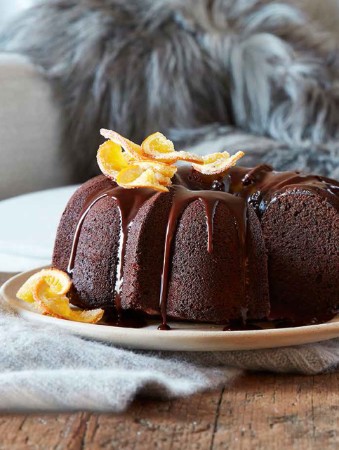 Dark Chocolate Orange Pound Cake with Chocolate Orange Glaze
Holiday 2017
BY: Jennifer MacKenzie
Combining the quintessential holiday flavours of chocolate and orange in a decadent, buttery pound cake with a glossy chocolate drizzle, this is a treat that's perfect for any festive occasion. You can make the cake a day ahead, keeping it covered in a cake container, then add the glaze shortly before serving to keep it looking shiny and fresh. You'll need two large oranges for the zest and juice for this recipe. Add a simple twist of orange zest or candied orange zest for garnish if you like.
Softened butter, all-purpose flour and unsweetened cocoa powder for preparing pan
1¾ cups (425 mL) all-purpose flour
¾ cup (175 mL) unsweetened cocoa powder
1 tsp (5 mL) baking powder
½ tsp (2 mL) salt
1½ cups (375 mL) unsalted butter, softened
1¾ cups (425 mL) granulated sugar
7 eggs, at room temperature
1 tbsp (15 mL) grated orange zest
¼ cup (60 mL) fresh orange juice
2 tsp (10 mL) vanilla extract
CHOCOLATE ORANGE GLAZE
3 oz (90 g) dark (60 to 75%) chocolate, chopped, divided
3 tbsp (45 mL) granulated sugar
3 tbsp (45 mL) unsalted butter, cut into cubes
½ tsp (2 mL) grated orange zest
3 tbsp (45 mL) fresh orange juice


1 Preheat oven to 325°F (160°C). If using a dark grey or black pan, preheat oven to 300°F (150°C).
2 To grease the pan, combine 1 tbsp (15 mL) softened butter and 2 tsp (10 mL) each of flour and cocoa in a small bowl to make a paste; brush inside a 10-inch (25-cm) Bundt pan (this ensures the cake releases easily and you get a nice cocoa coating).
3 Sift together flour, cocoa, baking powder and salt in a medium bowl.
4 Cream butter in an electric mixer (using paddle if using a stand mixer) until fluffy. Add sugar and beat for about 5 minutes until very pale and fluffy. Beat in eggs, 1 at a time, beating well after each addition. Beat in orange zest, orange juice and vanilla extract until incorporated (it will look curdled).
5 Stir in flour mixture, in 3 additions, using a spatula or wooden spoon, until evenly blended. Spread batter into prepared pan, making sure there are no air pockets, and smoothing top.
6 Bake for about 1 hour or until a tester inserted in the centre comes out clean. Let cool in pan on a wire rack for 20 minutes. Invert onto rack, remove pan and let cake cool completely. Transfer cooled cake to a cake plate.
7 For the chocolate orange glaze, combine half of the chocolate plus all of the sugar, butter, orange zest and juice in a small saucepan. Heat over low heat, whisking, until butter and chocolate are melted and mixture is smooth. Remove from heat and add remaining chocolate; whisk until melted and smooth. The glaze should just hold the ridges when you move the whisk in it but still be fluid. If it's too thin, let it cool for a few minutes.
8 Slowly pour the just-warm glaze over the top of the cake, evenly circulating it around the cake so the glaze covers the top and drizzles down the sides. Let set for 5 to 10 minutes, or for up to 8 hours before serving (cover with a cake dome if holding for more than 1 hour).
SHARE