Dark Chocolate & Balsamic Truffle Loaf
Autumn 2019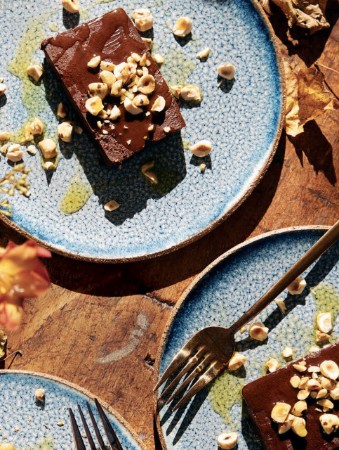 Dark Chocolate & Balsamic Truffle Loaf
Autumn 2019
BY: Christopher St. Onge
Chocolate, balsamic vinegar and olive oil have a real affinity for each other. Turn this into a cross-cultural affair by using local hazelnuts from Grimo Nut Nursery (online at grimonut.com) and some of the best chocolate in the world, made right here. Soma and Hummingbird are two award-winning chocolate makers worthy of a splurge. Keep the portions on the small side and serve with strong bitter espresso.
1½ cups (375 mL) whipping cream, divided
1 tbsp (15 mL) balsamic vinegar
3 egg yolks
­½ cup (125 mL) sugar
­½ tsp (2 mL) vanilla extract or paste
1 lb (455 g) 70% chocolate, chopped
­½ cup (125 mL), 1 stick, unsalted butter
­½ cup (125 mL) hazelnuts
­¼ cup (60 mL) extra virgin olive oil
1 Put a medium saucepan with a 2-inch (5-cm) depth of water over medium heat and bring to a boil. Reduce heat to maintain a gentle simmer.
2 In a medium heatproof bowl, combine ½ cup (125 mL) whipping cream, balsamic vinegar, egg yolks and sugar; whisk to combine and set over (but not touching) simmering water in a pot. Whisking constantly, cook until thickened (see TIP for an easy way to tell if your mixture is thickened). Immediately remove from heat and continue to whisk for another minute or so to prevent overheating. Stir in vanilla.
3 In a second heatproof bowl, this one larger than the last, combine chocolate and butter. Set over simmering water. Stir from time to time until chocolate is melted and the mixture is smooth. Remove from heat and stir egg yolk mixture into chocolate mixture until no streaks remain. Let cool to room temperature.
4 Whip remaining 1 cup (250 mL) cream to stiff peaks; fold half into cooled chocolate mixture, followed by remaining half until no streaks remain.
5 Scrape into an 8 x 4-inch (20 x 10-cm) plastic- wrap-lined loaf pan. Smooth top and place additional plastic wrap overtop. Refrigerate overnight for at least 18 hours and up to 5 days ahead.
6 Meanwhile toast hazelnuts in a 375°F (190°C) oven for 9 to 10 minutes or until golden. Let cool then turn out onto a clean kitchen towel; wrap to enclose nuts and rub to remove as much skin as possible. Roughly chop nuts.
7 To serve, turn out loaf and remove plastic wrap. Using a knife dipped in hot water slice ½-inch-thick (1-cm) pieces and arrange on dessert plates; let stand 10 minutes to soften somewhat. Drizzle 1 tsp (5 mL) of olive oil over each and sprinkle with about 1 tbsp (15 mL) of the chopped nuts.

TIP
To check if your custard is thickened, vigorously whisk your cool custard mixture over the double-boiler until a raft of fine foam appears on top. As you whisk constantly to avoid scrambling the eggs, whisk more vigorously from time to time to maintain this layer of fine bubbles. As soon as the small bubbles and foam disappear, your custard is thickened and ready.


SHARE