Dairy-Free Cranberry Swirl Loaf
Holiday 2018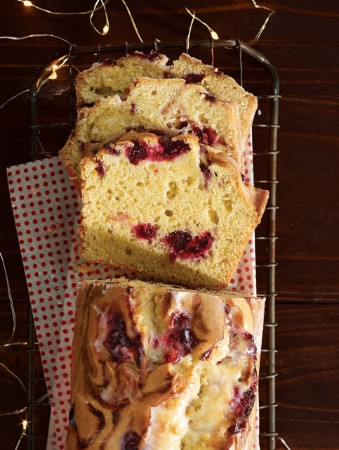 Dairy-Free Cranberry Swirl Loaf
Holiday 2018
BY: Michelle Lucas Larving
Unsweetened nut milk and canola oil substitute for conventional milk and butter so seamlessly that you'd be hard pressed to tell this festive loaf is dairy-free. While cashew milk is preferred as it has the creamiest texture and most subtle taste, any nut milk of your liking can be used.
CRANBERRY SWIRL
Baking spray
1 cup (250 mL) frozen cranberries
⅓ cup (80 mL) granulated sugar
¼ cup (60 mL) water

LOAF
2¼ cups (560 mL) all-purpose flour
2 tsp (10 mL) baking powder
½ tsp (2 mL) salt
1 cup (250 mL) granulated sugar
¾ cup (175 mL) unsweetened nut milk, preferably cashew
½ cup (125 mL) canola oil
2 eggs
1 tbsp (15 mL) lemon zest
2 tsp (10 mL) vanilla extract

GLAZE
¼ cup (60 mL) icing sugar
2 tsp (10 mL) lemon juice
1. Arrange rack at centre of oven. Preheat to 350°F (180°C). Generously spray a metal 9 x 5-inch (23 x 13 cm) pan with baking spray. Set aside.

2. In a medium saucepan, combine cranberries with sugar and water. Bring to a boil, then reduce heat to medium-low and simmer, stirring occasionally, until mixture has reduced to just over ½ cup (125 mL), about 5 minutes. Mash until jammy. Transfer to a bowl and let cool for 20 minutes.

3. Meanwhile, prepare loaf. In a medium bowl, whisk together flour with baking powder and salt. In a large bowl, whisk together sugar with nut milk, oil, eggs, lemon zest and vanilla until fully combined. Gradually whisk flour mixture into wet mixture just until batter is fully smooth. Scrape half of batter into prepared pan; smooth top. Drop two-thirds of cranberry mixture in spoonfuls overtop. Cover with remaining batter; smooth top. Drop remaining one-third of cranberry mixture overtop. Swirl with a wooden skewer.

4. Bake in centre of oven until a tester inserted into the centre of loaf comes out clean, 1 hour and 10 minutes. Transfer to a wire rack and let cool, 10 minutes.

5. Meanwhile, prepare glaze. In a small bowl, combine icing sugar with lemon juice. Turn loaf out onto rack. Brush top with glaze and let cool completely, 1 hour.
SHARE