Curried Chicken on Coconut Rice Cakes
Holiday 2017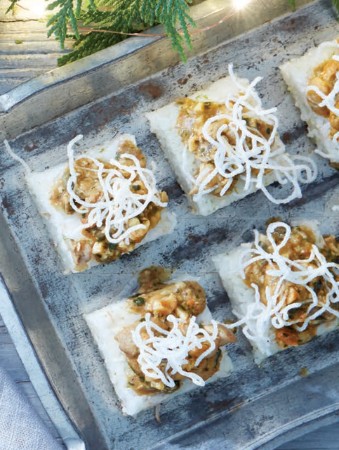 Curried Chicken on Coconut Rice Cakes
Holiday 2017
BY: Christopher St. Onge
Both the garnish and the chicken can be prepared a couple of days ahead here, but the rice is best the day it's made. It needs to set up for an hour at room temperature, so plan accordingly. Resist the urge to put it in the fridge, because, once chilled, the rice will become hard and unpleasant.
CURRIED CHICKEN
2 tbsp (30 mL) coconut or peanut oil
1 onion, halved and thinly sliced
2 cloves garlic, finely grated or chopped
1 tbsp (15 mL) finely grated ginger
2 tsp (10 mL) mild curry paste
Pinch ground cloves
Pinch ground nutmeg
½ tsp (2 mL) ground cumin
¼ tsp (1 mL) ground cinnamon
1 plum tomato, flesh coarsely grated, skin discarded
1¼ cups (310 mL) light coconut milk
6 boneless and skinless chicken thighs, each cut into 6 pieces
3 tbsp (45 mL) finely chopped cilantro
¼ cup (60 mL) finely chopped roasted unsalted cashews
Juice of ½ lime

GARNISH
Peanut or canola oil for frying
½ cup (125 mL) uncooked thin rice vermicelli noodles, broken into 1 to 2 inch (2.5 to 5 cm) lengths
Pinch salt

COCONUT RICE CAKES
1½ cups (375 mL) calrose, or Japanese sushi rice
¼ cup (60 mL) unsweetened shredded coconut, lightly toasted
1½ cups (375 mL) water
½ cup (125 mL) light coconut milk
¾ tsp (4 mL) salt
Zest of 1 lime
1. For the chicken, heat oil in a skillet over medium heat; add onion and fry, stirring frequently, until deeply golden, 10 to 12 minutes.

2. Stir in garlic, ginger and curry paste; cook 1 minute. Sprinkle spices over and stir to combine; add tomato and coconut milk. Stir in chicken and bring to a simmer; reduce heat to low and cook for 20 minutes, stirring from time to time, until thickened. Set aside. (Chicken may be made to this point, covered and refrigerated for up to 3 days until ready to serve.)

3. For the garnish, heat a 2-inch (5-cm) depth of oil over medium heat in a medium pot to 400°F (200°C). Fry noodles in 2 batches until puffed, about 10 seconds; remove with a slotted spoon to a paper-towel-lined bowl. Sprinkle with salt and set aside. (Noodles may be made up to 3 days in advance and kept uncovered at room temperature.)

4. For the coconut rice cakes, combine all but the lime zest in a medium saucepan; stir to combine. Bring to a boil over medium heat. Reduce to low and simmer for 20 minutes until liquid is absorbed. Remove from heat; let stand 10 minutes. Stir in lime zest.

5. Turn out into a lightly greased 8-inch (20‑cm) square baking pan; press down using a large to spoon to make it level and compact. Cover with cling wrap and let stand for 1 hour or until room temperature—but for no longer than 2 hours. Flip out onto a cutting board and cut into 36 squares.

6. To serve, heat chicken on stovetop until warm; stir in the chopped cilantro, cashews and lime juice. Place a piece of chicken and small amount of sauce on each rice cake. Garnish each with a small amount of crispy rice noodles.
SHARE