Cucumber Collins (No Alcohol)
JUNE 2020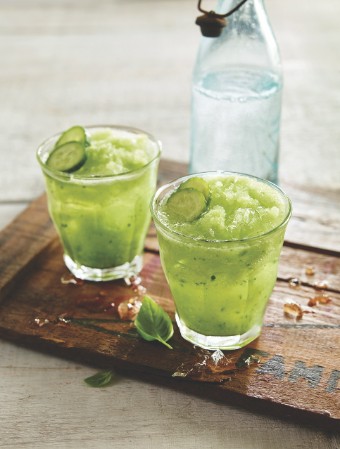 Cucumber Collins (No Alcohol)
JUNE 2020
1 basil leaf, torn
3 oz club soda
¼ cup (60 mL) Cucumber Ice (see recipe below)
A crack of black pepper
Basil leaf, for garnish
1. Fill a highball glass three-quarters full with ice. Add torn basil leaf and top up with club soda. Add Cucumber Ice and black pepper. Garnish with a basil leaf.
Cucumber Ice
1 cucumber
2 oz fresh lime juice
1 oz simple syrup*
1. Chop cucumber into pieces and purée in a blender. Pour through a sieve to collect juice in a bowl, pressing to extract as much as possible. To the bowl, add lime juice and simple syrup. Stir to mix. Pour onto a flat tray to freeze. After 30 minutes, remove tray from freezer and use a fork to break mixture into a slush. Place back in freezer until ready to serve.
Makes enough for several drinks
*Simple syrup 
Combine equal parts sugar and boiling water; stir until sugar dissolves. Let cool completely. Keeps well, covered and refrigerated, for up to a week. 
SHARE