Croque Madame
Early Summer 2003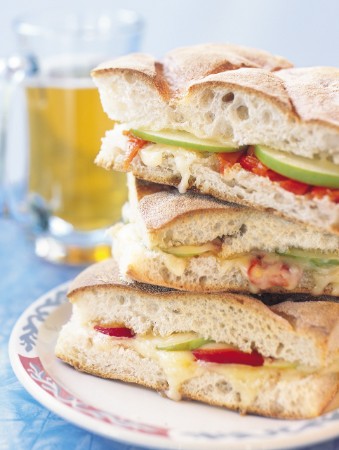 Croque Madame
Early Summer 2003
BY: Lucy Waverman
A gooey, rich sandwich stuffed with apples, peppers and melted cheese. Use a sandwich maker to grill them if you have one, otherwise follow our instructions. Focaccia comes in different sizes.
Each of your squares should be about 4 to 6 inches square (10 to 15 cm).
1 loaf focaccia
1 lb (500 g) brie cheese, room temperature
4 roasted red peppers, sliced
1 Mutsu or Granny Smith apple, cored, peeled and thinly sliced
Salt and freshly ground pepper
2 tbsp (25 mL) olive oil
1. Cut focaccia into 4 squares. Cut squares in half horizontally. Remove rind from brie. Spread brie on each half of square, top with pepper slices and slices of apple. Finish with more brie and season according to taste. Press top down on filling.
2. Heat oil in the skillet and add sandwiches, pressing down to brown them, about 1 to 2 minutes per side, or until cheese is melted and focaccia is browned.
SHARE