Creamy Wild Mushroom & Almond Soup
Printemps 2019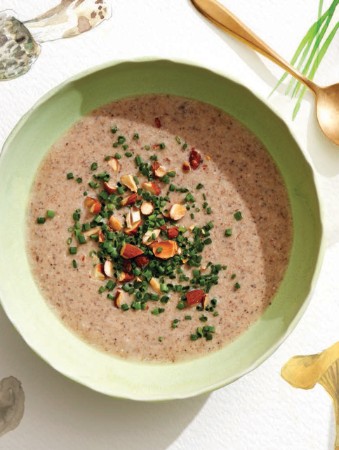 Creamy Wild Mushroom & Almond Soup
Printemps 2019
BY: Michelle Rabin
Wild mushrooms are one of the first signs of the spring thaw. What better way to celebrate the end of winter than by taking advantage of the seasonal bounty? Roasting them in the oven and then puréeing with fresh cream makes this soup feel like a warm blanket for your mouth. Almond meal is added to the soup to thicken it and enhance the nutty flavour of the mushrooms.
6 cups (1.5 L) water
1½ oz (45 g) dried assorted mushrooms
About 14 oz (395 g) assorted fresh wild mushrooms (shiitake, black oyster, oyster, trumpet, morels, chanterelles, hen of the woods, etc.)
5 tbsp (75 mL) olive oil, divided
2 tsp (10 mL) salt, divided
5 shallots, roughly chopped
5 sprigs thyme
¼ cup (80 mL) dry sherry
¾ cup (175 mL) almond meal
3 tbsp (45 mL) lemon juice
1 cup (250 mL) half-and-half cream
½ cup (125 mL) finely chopped chives
½ cup (125 mL) chopped roasted almonds
1 Bring 6 cups (1.5 L) water to a boil in a large pot. Add dried mushrooms and turn o‹ heat. Set aside and let soak while you prepare recipe (minimum 30 minutes).
2 Preheat oven to 400°F (200°C).
3 Tear any large wild mushrooms into 2-inch (5-cm) pieces. Place wild mushrooms in a single layer on a baking sheet. Drizzle with 2 tbsp (30 mL) of olive oil and 1 tsp (5 mL) salt. Roast mushrooms until deep brown and fragrant, about 30 minutes.
4 Heat remaining oil in a large pot over medium. Add in shallots and cook until soft and golden, about 6 minutes. Add in roasted
mushrooms and thyme sprigs; stir to combine. Increase heat to high and pour in sherry. Using a wooden spoon, stir until no liquid remains in the pot.
5 Reduce heat to medium. Add in almond meal and stir to incorporate. Almond meal will get clumpy. Continue to stir as the almond meal browns. Use wooden spoon to scrape across the bottom of the pot and sides as you stir.
6 Stir in the mushroom soaking liquid from step 1 along with the soaked mushrooms. Increase heat to high until mixture reaches
a boil, then reduce to medium-low. Stir in lemon juice and simmer for 20 minutes.
7 Remove thyme sprigs and discard. Purée soup using an immersion blender until smooth. Stir in cream and remaining 1 tsp (5 mL) salt.
8 Divide soup among bowls. Garnish each with chives and almonds.
SHARE