Creamy Brussels Sprout, Bacon & Cheddar Dip
Temps des Fêtes 2013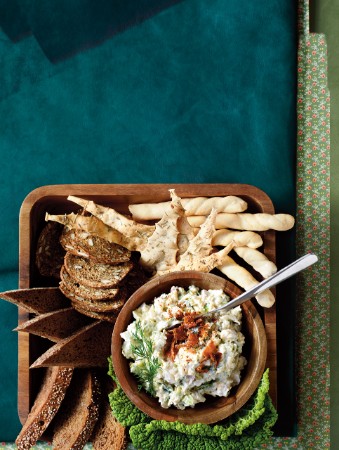 Creamy Brussels Sprout, Bacon & Cheddar Dip
Temps des Fêtes 2013
BY: Victoria Walsh
Brussels sprouts haters, prepare to be converted! This riff on the classic spinach dip has even more flavour than the traditional, plus loads of crisp and fresh Brussels sprout flavour. Delicious cold, it's great warm, too. Heat by simply scraping dip into a casserole dish. Cover with tinfoil. Bake in a preheated 350°F (180°C) oven for 25 minutes until warm.
½ lb (250 g) Brussels sprouts
A handful of ice cubes
2 thick-cut or 3 thin bacon strips
1¼ cups (310 mL) grated old cheddar
1 cup (250 mL) sour cream
1 can (227 mL) water chestnuts, drained
½ cup (125 mL) mayonnaise
¼ cup (60 mL) chopped dill
¼­ tsp (0.5 mL) salt
Generous pinches cayenne pepper
1 Bring a pot of water to a boil. Trim ends of Brussels sprouts. Fill a large bowl with cold water and ice. Boil Brussels sprouts for 3 to 5 minutes until almost fork-tender. Drain, then plunge into ice water. Cool completely, then drain well.

2 Meanwhile, place bacon strips in a large frying pan set over medium. Cook, turning occasionally, for 10 to 15 minutes until crisp. Pat dry with paper towels. Coarsely chop.

3 Place Brussels sprouts in a food processor. Pulse once or twice to coarsely chop. Add bacon and remaining ingredients. Whirl until slightly chunky and evenly mixed. If making ahead, dip will keep well, covered and refrigerated for up to 3 days. Garnish with more cheddar, dill, crumbled bacon and pinches of cayenne. Serve with an assortment of your favourite breads and crackers.
Makes 3¼ cups (810 mL) dip for 12 servings
SHARE