Cranberry Pistachio Salted Caramel Bars
Holiday 2012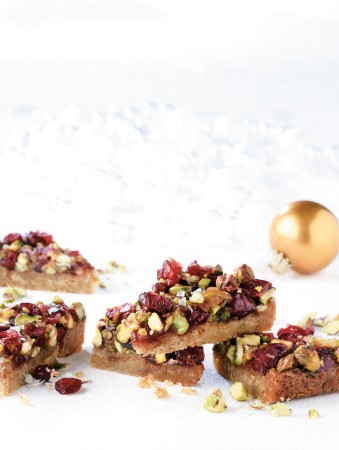 Cranberry Pistachio Salted Caramel Bars
Holiday 2012
BY: Eshun Mott
Plumped dried cranberries and toasted pistachios, bound together with rich salted caramel on a Graham crackerish cookie base. A candy thermometer is not essential here, but it can be helpful. Be attentive and careful when making the caramel as it can go from clear to overcooked fairly quickly, and can inflict a nasty burn if any gets on your skin. If your pistachios are raw, toast them at 350°F (180°C) for 8 minutes or until fragrant.
COOKIE BASE
1¼ cups (310 mL) all-purpose flour
½ cup (125 mL) wheat germ
1 tsp (5 mL) salt
¾ cup (175 mL) unsalted butter, softened
¾ cup (175 mL) packed light brown sugar
1 large egg yolk

FILLING
2 cups (500 mL) sugar
½ cup (125 mL) water
2 tbsp (30 mL) corn syrup
½ cup (125 mL) whipping cream, heated
1½ tsp (7 mL) salt
3 tbsp (45 mL) unsalted butter, cut into pieces
1 cup (250 mL) shelled pistachios, roasted and unsalted, coarsely chopped
1½ cups (375 mL) dried cranberries, plumped in 1 cup (250 mL) boiling water for 10 minutes, drained well
½ tsp (2 mL) Maldon salt to finish (optional)
1 Preheat oven to 350°F (180°C).

2 Line a 9 x 13-inch (23 x 33-cm) baking pan with parchment paper. Set aside.

3 Combine flour, wheat germ and salt in a bowl. Set aside.

4 Combine butter and sugar in a mixing bowl and beat together until light and fluffy. Beat in egg yolk until combined. Add in flour mixture and beat until fully combined. Crumble dough into prepared baking pan and use damp fingers to press into a single layer with a slight lip at the edge. Bake for 25 minutes or until dry to the touch and golden. Set aside.

5 Combine sugar, water and corn syrup in a heavy-bottom pot and stir just enough to moisten sugar. Place pot over medium heat, bring to a simmer and cook without stirring for 10 minutes or until deeply golden (between 320° to 340°F [159° to 170°C] on a candy thermometer). Working quickly and carefully, add cream and salt, stirring to combine, then add butter, 1 tbsp (15 mL) at a time, until incorporated. Remove from heat. Let caramel stand for 10 minutes to cool slightly then add pistachios and cranberries and stir until coated. Scrape caramel mixture onto prepared cookie base and use a spatula to even out topping. Return to oven and bake for 15 minutes or until caramel is bubbling at the edges. Sprinkle bars with Maldon salt if desired. Let cool for 2 hours to allow caramel to firm up, then remove from pan, peel down parchment sides and cut into 48 small rectangular bars. Will keep well in a sealed container for 1 week at room temperature.
SHARE