Cranberry Oatmeal Biscuits with Poached Eggs, Maple-Roasted Root Vegetable Hash & Orange Hollandaise
Winter 2019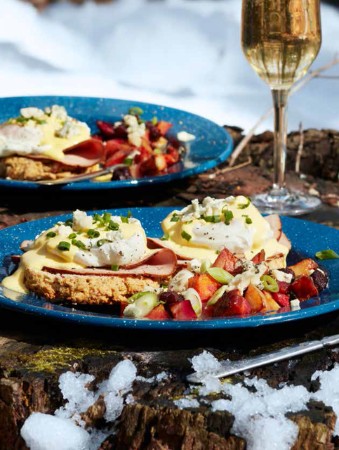 Cranberry Oatmeal Biscuits with Poached Eggs, Maple-Roasted Root Vegetable Hash & Orange Hollandaise
Winter 2019
BY: Craig Napper
Craig Napper serves a version of this at his restaurant in Thunder Bay. The hash can be made ahead of time as can the biscuits and the sauce. Poach the eggs at the last minute. The hash is excellent as a side dish with fried chicken, pork chops or flank steak. Use other vegetables that you have on hand, if you prefer.
MAPLE-ROASTED ROOT VEGETABLE HASH
2 cups (500 mL) chopped white potato, about 2 medium
1½ cups (375 mL) chopped sweet potato, about 1 small
1 cup (250 mL) chopped red onion
¾ cup (175 mL) chopped celery
½ cup (125 mL) peeled and chopped carrot
½ cup (125 mL) peeled and chopped beet
4 garlic cloves, unpeeled
2 tbsp (30 mL) maple syrup
1 tbsp (15 mL) vegetable oil
Salt and freshly ground black pepper to taste
½ cup (125 mL) crumbled Gorgonzola cheese
½ cup (125 mL) chopped green onions
4 Cranberry Oatmeal Biscuits (recipe follows)
8 thin slices ham
8 poached eggs
Orange Hollandaise (recipe follows)


1. Preheat oven to 400°F (200°C). Line a baking sheet with parchment paper.

2. Toss together potato, sweet potato, red onion, celery, carrot, beet, garlic cloves, maple syrup and oil in a bowl. Season to taste with salt and pepper. Transfer vegetables to prepared baking sheet.

3. Roast until tender and golden, 25 to 30 minutes, stirring occasionally. Remove and discard garlic skin. Garnish vegetables with Gorgonzola and sprinkle with green onions.

4. To serve, divide biscuits in half and top each half with a piece of ham. Top with poached eggs and drizzle with hollandaise. Serve surrounded with Maple-Roasted Root Vegetable Hash and garnish with extra Gorgonzola.



CRANBERRY OATMEAL BISCUITS
You can omit the cranberries here if you don't like them. Leftovers are a lovely nibble with a cup of tea.

1 cup (250 mL) all-purpose flour
½ cup (125 mL) rolled oats
½ cup (125 mL) dried cranberries
2 tsp (10 mL) baking powder
½ tsp (2 mL) salt
¼ cup (60 mL) cold unsalted butter, cubed
¼ cup (60 mL) cold milk
1 large egg
1 tbsp (15 mL) honey


1. Preheat oven to 425°F (220°C). Line a baking sheet with parchment paper.

2. Combine flour, oats, cranberries, baking powder and salt in a food processor and pulse until oats and cranberries are chopped. Add butter and pulse until the texture of coarse bread crumbs.

3. Beat milk, egg and honey together. Add to the processor and pulse until just combined. Using a heaping ¼-cup (60-mL) measure, divide oat mixture into 6 portions and place onto prepared baking sheet. Flatten slightly.

4. Bake 12 to 14 minutes or until golden and flaky.



ORANGE HOLLANDAISE
Make sure the butter is hot for this easy hollandaise—this cooks the egg yolks to thicken them and blends in more easily.

2 tbsp (30 mL) orange zest
¼ cup (60 mL) fresh orange juice
3 tbsp (45 mL) lemon juice
2 egg yolks
Salt and freshly ground pepper to taste
¾ cup (175 mL) hot melted butter


1. Blend together orange zest and juice, lemon juice, egg yolks and salt and pepper in a blender until combined. With the blender running, slowly drizzle in melted butter. Sauce should be thickened and smooth. Transfer to a thermos to keep warm if not using right away.


SHARE