Cranberry Brie Puffs
Holiday 2004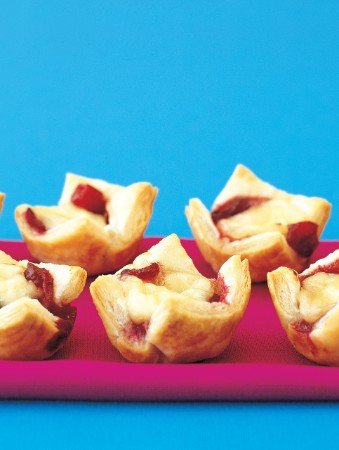 Cranberry Brie Puffs
Holiday 2004
BY: Dana Speers
Rich, buttery puff pastry is complemented by tart cranberry filling in these delectable golden hors d'oeuvres.
Half of a 397 mL package frozen puff pastry (1 block)
1 cup (250 mL) fresh cranberries
¼ cup (50 mL) water
3 tbsp (45 mL) sugar
¼ cup (50 mL) all-purpose flour, for flouring work surface
6 oz (175 g) brie, rinds removed, cut into 24 equal pieces
1. Thaw pastry at room temperature for about 1 hour or until soft enough to roll out.

2. Preheat oven to 400ºF (200ºC).

3. Put the cranberries, water and sugar in a small saucepan. Cook, covered, over high heat for about 2 to 3 minutes or until cranberries have popped. Remove lid and stir to mash with a fork. Reduce heat to medium and continue cooking, stirring with fork, for about 1 minute or until the mixture has thickened and liquid has evaporated. Cool.

4. Sprinkle work surface with flour and roll out puff pastry into a 12 x 9-inch (30 x 23-cm) rectangle. With a pastry scraper, cut the dough into 24 equal rectangles. Press pastry into mini-muffin pans (you'll need 2 pans with 12 muffin cups each). Divide cooled cranberry mixture among the muffin cups. Put a piece of brie in each muffin cup. Bake puffs for 15 to 20 minutes or until puffed up and golden brown. Serve warm.
Serves 6 (makes 24 Puffs)
SHARE