Cosmopolitan Meltaways
Spring 2009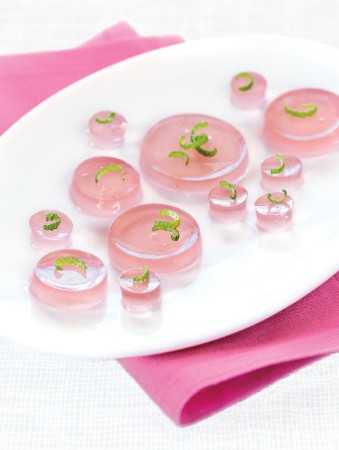 Cosmopolitan Meltaways
Spring 2009
BY: Dana McCauley
Although you forego the iconic glassware that makes a cosmo a stylish accessory, this quivering version is just as flirty and fun as the original. Cut the set jelly into polka dots of various sizes, stars or diamondshapes so that they resemble jewels. Just be careful not to choose a shape with too many tight corners which can make unmoulding (and holding!) difficult.
1 cup (250 mL) simple syrup (recipe follows)
3 pkgs (7 g each) unflavoured gelatin crystals,about 3 tbsp (45 mL)
1 cup (250 mL) cranberry juice or cranberry cocktail
1 cup (250 mL) vodka
1⁄2 cup (125 mL) orange liqueur
1⁄4 cup (50 mL) fresh lime juice
Confectionary gold dust (optional)
Grated lime zest (optional)
1. Pour the simple syrup into a small saucepan. Sprinkle over gelatin and stir to combine. Let stand until gelatin softens, about 2 minutes. Place this mixture over low heat and stir, gently splashing around the sides of the pan until all of the gelatin has dissolved. Do not boil.

2. Stir gelatin mixture with cranberry juice, vodka, orange liqueur and lime juice. Stir slowly for 1 minute.

3. Divide mixture evenly between two 9 x 13-inch (3-L) baking dishes. Refrigerate for 2 hours or until firmly set. Cutjelly using a circle or other shaped cookie cutter. Lightly brush each cocktail with a tiny bit of gold dust orlime zest before serving, if desired.
Makes seventy 1.5-inch (4-cm) discs, about 15 servings, approximately 4 per person

Simple Syrup
An essential bar staple whether you're making cocktails to be sipped or eaten. Make it well in advance and store in the refrigerator so that it's ready and waiting whenever the urge for cocktails strikes.

3 cups (750 mL) each granulated sugar and water
1.  Combine sugar and water in a saucepan.  Set over medium-high heat and cook, stirring until sugar is dissolved, for 6 to 10 minutes or until mixture comes just to a boil and clarifies. Cool to room temperature; transfer to a sterilized jar. Cover tightly and refrigerate for up to 3 weeks.
SHARE