Corpse Reviver #13
Autumn 2020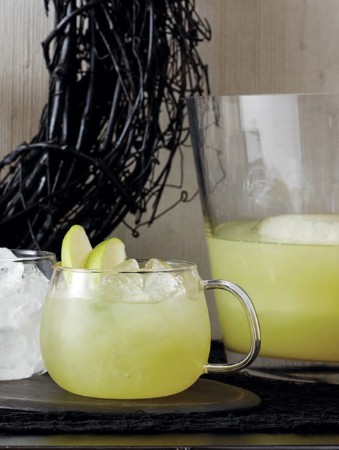 Corpse Reviver #13
Autumn 2020
BY: Christine Sismondo
A fresh and herbal take on the classic cocktail, Corpse Reviver #2, this matcha punch has an intriguing depth of flavour, but the lively citrus gin manages to keep it light on its feet.
6 cups (1.5 L) water
20 oz matcha
20 oz Aviation Gin (LCBO 129940)
20 oz fresh lime juice
20 oz Tio Pepe Extra Dry Fino (LCBO 231829)
20 oz Chartreuse Green (LCBO 37333, 375 mL)
Small apples (for garnish)
1. The day before the party, fill a Bundt cake baking mould with water to make an ice ring. Freeze overnight.

2. Stir all the liquid ingredients into a pitcher. Pour into punch bowl. Add frozen ice ring.

3. Slice apples into thin wedges, leaving the skin intact.

4. Serve 3 oz punch in each ice-filled punch cup garnished with 2 apple slices.
SHARE