Cornflake-Crusted Arctic Char Fillet on an Apple Beet Salad
Winter 2019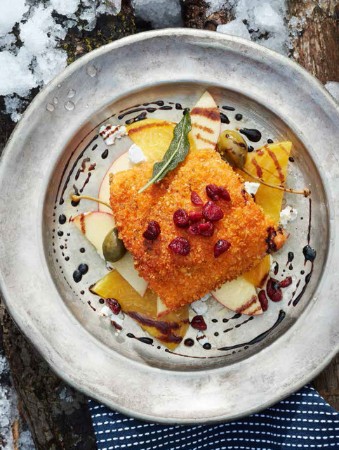 Cornflake-Crusted Arctic Char Fillet on an Apple Beet Salad
Winter 2019
BY: Arturo Comegna
This tasty dish is very quick to make and is an excellent main course for a dinner party. I prefer to use yellow beets because the colour does not bleed, but if you like the crimson look then use red ones. The balsamic glaze works well with chicken too.
1 large golden beet, about 6 oz (170 g)
½ cup (125 mL) balsamic vinegar
2 tbsp (30 mL) maple syrup
2 Arctic char fillets, each 6 oz (170 g)
½ tsp (2 mL) dried oregano
Salt and freshly ground pepper
½ cup (125 mL) Corn Flake crumbs
2 tbsp (30 mL) olive oil
1 clove of garlic, crushed
1 inch (2.5 cm) piece ginger, peeled and crushed
4 caper berries
3 fresh sage leaves

SALAD
½ a tart apple, sliced
1 tbsp (15 mL) lemon juice
1 tbsp (15 mL) olive oil

¼ cup (60 mL) crumbled goat cheese
¼ cup (60 mL) dried cranberries


1. Cook beet in a pot of boiling water until fork-tender, about 45 to 55 minutes. Peel, cut in half and thinly slice. Reserve.

2. Bring balsamic vinegar and maple syrup to a boil, then reduce to medium-low and simmer until reduced to ¼ cup (60 mL), about 10 to 12 minutes.

3. Pat dry Arctic char fillet and season with oregano and salt and pepper to taste. Crust both sides of seasoned fish with Corn Flake crumbs, shaking off excess.

4. Heat olive oil in a large nonstick pan over medium-high heat. Add garlic and ginger and fry until golden, about 2 minutes. Remove and discard. Add fish, skin-side down and cook until crisp and golden, about 4 minutes. Flip fish and add caper berries and sage leaves; continue cooking until golden and just pink inside, 3 to 4 minutes.

5. In a separate bowl, combine beet slices with apple slices; toss with lemon juice, olive oil and salt and pepper to taste.

6. Arrange salad on plate and top with goat cheese; drizzle balsamic maple syrup reduction around the plate. Place cooked fish on salad and sprinkle with dried cranberries.


SHARE