Cold Soba Noodles, Watermelon & Bay Scallops with Miso-Soy-Sesame Vinaigrette
Summer 2018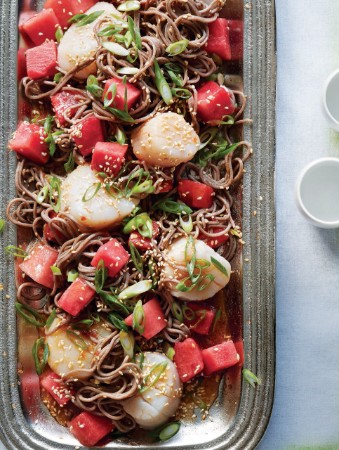 Cold Soba Noodles, Watermelon & Bay Scallops with Miso-Soy-Sesame Vinaigrette
Summer 2018
BY: Signe Langford
Tender noodles, savoury dressing and buttery scallops are a perfectly delicious contrast to the bite-size chunks of sweet, crunchy, refreshing watermelon. This recipe is a great excuse to go on an Asian-ingredient shopping spree. One of the ingredients called for is "seasoned" rice wine vinegar, which has salt and sugar added. If you happen to have unseasoned on hand, you may need to add some salt and a pinch of white sugar; taste and adjust if desired. We call for bay scallops here, but if you prefer the larger sea scallop, simply adjust amounts and cooking times.
4 cups (1 L) cooked soba noodles; start with approximately 9½ oz (270 g) uncooked
2 cups (500 mL) fish, vegetable or chicken stock or clam juice
1 lb or 2 cups (455 g or 500 mL) bay scallops or 12 to 14 large sea scallops
1 tbsp (15 mL) yellow or white miso paste
1 tbsp (15 mL) mirin (Japanese cooking wine)
2 tbsp (30 mL) seasoned rice wine vinegar
1 tsp (5 mL) soy sauce
½ tsp (2 mL) toasted sesame oil
1 tsp (5 mL) ponzu sauce
1 tsp (5 mL) chili garlic sauce, sriracha or sambal oelek
2 tbsp (30 mL) grape-seed, sunflower, peanut or other neutral-tasting oil
5 scallions, trimmed, thinly sliced, divided
2 tsp (10 mL) toasted white sesame seeds, plus a pinch more for garnishing (see TIP)
1 tbsp (15 mL) finely minced fresh ginger, peeled
3 cups (750 mL) cubed, bite-size pieces of watermelon
1. Cover cooked soba noodles and refrigerate to chill.

2. Add the stock or clam juice to a small saucepan and bring to a simmer over high heat; add the scallops. Simmer for 1 to 2 minutes for bay scallops or 3 to 4 minutes for sea scallops—or until opaque and just slightly firm to the touch. Drain and set aside in the fridge to chill.

3. In a large non-reactive or glass bowl, add the miso paste, mirin, rice wine vinegar, soy sauce, sesame oil, ponzu sauce, chili garlic sauce and grape-seed oil; whisk to combine and make smooth.

4. Add approximately 4 of the sliced scallions, sesame seeds, ginger, chilled scallops, watermelon and noodles; toss to combine and coat with the dressing. Sprinkle with reserved pinch of sesame seeds and remaining reserved sliced scallion; serve immediately.

TIP It's now possible to buy toasted sesame seeds in most markets, but to toast your own, simply toss sesame seeds in a dry skillet over medium heat until very lightly browned. Transfer immediately to a plate or bowl so they don't burn in the pan's residual heat.
Serves 4 as a main or 6 as an appetizer or side dish
SHARE