Coffee-Roasted Leg of Lamb
Printemps 2019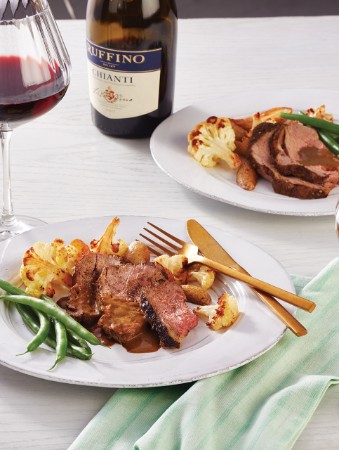 Coffee-Roasted Leg of Lamb
Printemps 2019
Lamb is one of those meats that benefits when you load on the marinade. It gives such a great flavour to the meat. Because lamb is sweet, the coffee in this recipe adds balance with its slight bitterness—a winning combination. Have the butcher remove the lamb bone, but do not request that the leg be butterflied. Let it remain looking like a bone-in lamb leg—it will be easier to carve and, because the thickness varies, you'll wind up with both better-done and less-done bits.
1 tbsp (15 mL) chopped garlic
1 tbsp (15 mL) instant espresso powder
1 tbsp (15 mL) ground coriander
2 tsp (10 mL) cinnamon
Salt to taste
1 tsp (5 mL) turmeric
¼ cup (60 mL) olive oil
1 leg of lamb, about 5 lbs (2.27 kg), bone removed
2 lbs (905 g) fingerling potatoes
Freshly ground pepper
¼ cup (60 mL) strong coffee
2 tbsp (30 mL) whipping cream
½ large head cauliflower, cut into large florets, about 4 cups (1 L)

SAUCE
3 tbsp (45 mL) strong brewed coffee
2 cups (500 mL) chicken stock
3 tbsp (45 mL) whipping cream
Pinch sugar, if needed
1 Combine garlic, espresso powder, coriander, cinnamon, salt and turmeric. Stir in 2 tbsp (30 mL) olive oil. Rub paste over and inside lamb and let sit for 1 hour.

2 Preheat oven to 475°F (240°C).

3 Place lamb on a rack over a metal roasting pan. Toss potatoes with 1 tbsp (15 mL) oil and season with salt and pepper. Scatter potatoes around lamb. Stir together coffee and cream, and baste lamb with the mixture. Bake for 30 minutes. Toss cauliflower with remaining 1 tbsp (15 mL) oil and season with salt and pepper. Scatter cauliflower with potatoes. Baste lamb with coffee mixture.

4 Reduce temperature to 350°F (180°C) and bake another 30 to 40 minutes or until medium-rare, basting every 20 minutes.

5 To prepare sauce, remove roast and vegetables to a carving board and let sit while making the gravy. Discard any fat (there won't be much). Place metal roasting pan on stovetop over medium heat then add 3 tbsp (45 mL) coffee to roasting pan and scrape up all the bits at the base. Add chicken stock and stir to the boil. Reduce heat to a simmer and cook for 3 minutes. Add cream and bring to a boil. Cook until flavours amalgamate, about 3 minutes. Season with salt and pepper and, if a little bitter, a pinch of sugar.
SHARE