Coffee Old Fashioned
Hiver 2013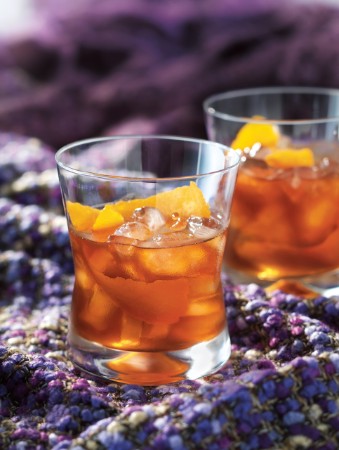 Coffee Old Fashioned
Hiver 2013
BY: James Chatto & Ryan Desjardins
This cocktail calls for cold-brewed coffee, a way of brewing that really brings out its complex flavours and results in a strong, concentrated coffee. In a French press, stir together 40 percent coarsely ground coffee with 60 percent iced water and refrigerate for around 12 hours. Then press and filter the coffee into a clean container. You can use it to make a regular cup of coffee with hot water or milk, but save some for this great version of an Old Fashioned with its resonant harmonies of bourbon, orange and coffee. A nutty South American coffee is the ideal choice, picking up the taste of the bitters beautifully.

Muddling (roughly bruising and stirring ingredients together with a blunt muddling stick in the bottom of a glass) releases all the complementary flavours of this delectable cocktail.
2 oz Maker's Mark Kentucky Bourbon
1 sugar cube
4 to 6 dashes of bitters
1 oz cold brew coffee concentrate
2 twists of orange zest
1 In a large rocks glass, muddle the bourbon, sugar cube and bitters until the sugar dissolves. Add the coffee concentrate and orange zest and muddle again. Add ice cubes and stir.
SHARE