Coconut Chicken Stew
Automne 2007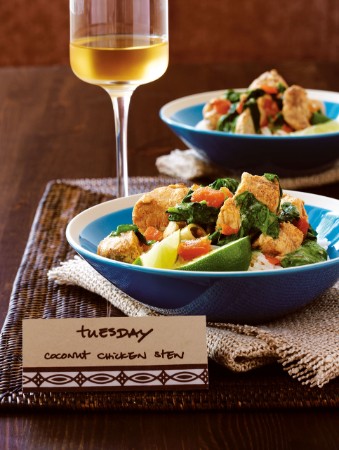 Coconut Chicken Stew
Automne 2007
BY: Emily Richards
Storing a few special ingredients in your pantry will allow you to create some semi-exotic meals for dinner that bring some fun to your weeknight repertoire. You can get all of these ingredients in a grocery store - no specialty stores required!
1 lb (500 g) boneless skinless chicken breasts or thighs
½ tsp (2 mL) ground cumin
½ tsp (2 mL) each Chinese 5-spice powder and Asian garlic chili paste
1 tbsp (15 mL) vegetable oil
4 cloves garlic, slivered
1 stalk lemon grass, bruised and cut into 1-inch (2.5-cm) pieces
1 tbsp (15 mL) minced fresh ginger
1 cup (250 mL) coconut milk
3 cups (750 mL) baby spinach leaves
2 plum tomatoes, diced
2 tbsp (25 mL) fish or soy sauce
Cooked basmati or Thai jasmine rice
Lime wedges


1. Chop chicken into bite-size pieces and place in large bowl. Add cumin, Chinese 5-spice powder and chili paste and stir to coat chicken well. Let stand for 10 minutes.

2. Heat oil over medium heat in large nonstick skillet. Cook garlic, lemon grass and ginger for about 2 minutes or until light golden.

3. Add chicken and increase heat to medium-high and cook, stirring for about 5 minutes or until browned. Add coconut milk and bring to boil. Reduce heat and simmer for about 8 minutes or until chicken is no longer pink inside. Add spinach, tomatoes and fish sauce and cook, stirring for about 2 minutes or until spinach is wilted and tender.

4. Serve each bowl with basmati rice and lime wedge.
SHARE