Coconut, Lime & Lemon-Grass Smash
Summer 2014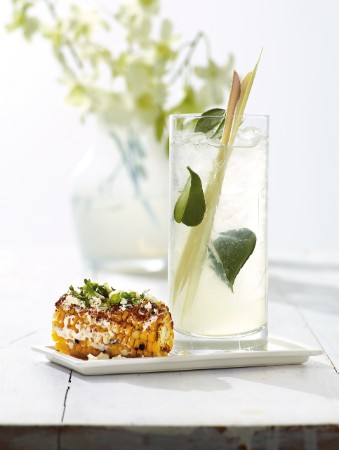 Coconut, Lime & Lemon-Grass Smash
Summer 2014
BY: Eshun Mott
Hip and healthy coconut water makes an excellent base for an alcoholic limeade with the sophisticated scent of lemon-grass and makrut lime leaves.
LEMON-GRASS & MAKRUT LIME SYRUP
6 makrut lime leaves
⅓ cup (80 mL) smashed and chopped lemon-grass
1 cup (250 mL) water
½ cup (125 mL) sugar

COCKTAIL
2¼ cups (560 mL) coconut water
1½ cups (375 mL) vodka
½ cup (125 mL) fresh lime juice
½ cup (125 mL) lemon-grass and makrut lime syrup
Lime leaves to garnish
1 Combine lime leaves, lemon-grass and water in a small pot over medium heat; bring to a boil. Cover, turn heat to low and simmer for 10 minutes. Add sugar and stir until dissolved. Turn heat to medium-low and simmer gently for 5 minutes or until syrup is flavourful. Remove from heat. Let cool completely. Strain and refrigerate until needed. Makes about ⅔ cup (150 mL).

2 Combine coconut water, vodka, lime juice and lemon-grass syrup in a pitcher. For each drink, measure out ⅓ cup (80 mL) of mixture, and shake over ice. Strain and garnish glass with a lime leaf.
SHARE