Classic French 75
Early Summer 2020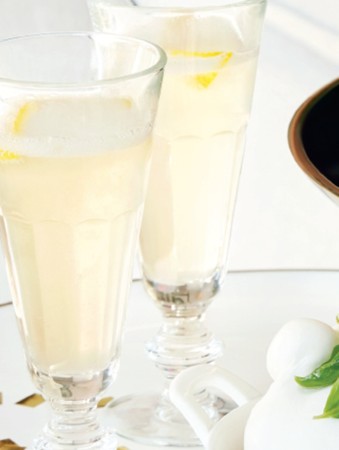 Classic French 75
Early Summer 2020
BY: Victoria Walsh
Understated and elegant, what's not to like about this classic gin cocktail? Offer cocktails on demand or whip up a pitcher for a crowd (recipe follows).
1 oz gin
½ oz freshly squeezed lemon juice
½ oz Simple Syrup (recipe follows)
3 to 4 oz Champagne or sparkling wine
Lemon peel twist or wisp, for garnish


1 Pour gin, lemon juice and Simple Syrup into an ice-filled cocktail shaker. Shake until chilled. Using a julep strainer, pour into a Champagne glass. Top with Champagne. Rub edge of glass with twist. Garnish glass with lemon twist.


BIG-BATCH FRENCH 75
1 In a large pitcher, stir 8 oz gin with ½ cup (125 mL) freshly squeezed lemon juice, ½ cup (125 mL) Simple Syrup and ½ cup (125 mL) cold water. (The water replaces the ice dilution that is incorporated when this cocktail is shaken.) Refrigerate until chilled, about 1 hour. When ready to serve, top with 1 bottle (750 mL) Champagne or sparkling wine. Pour into glasses. Garnish with lemon twists.


SIMPLE SYRUP

Bring 1 cup (250 mL) water to a boil in a small saucepan. Add 1 cup (250 mL) granulated sugar. Stir until dissolved. Remove from heat. Let cool completely. If making ahead, syrup will keep well stored in a resealable container in the fridge for at least 2 weeks.
Makes 1½ cups (375 mL) syrup
SHARE