Classic Deep-Fried Potato Chips & Caramelized Onion Dip
Winter 2012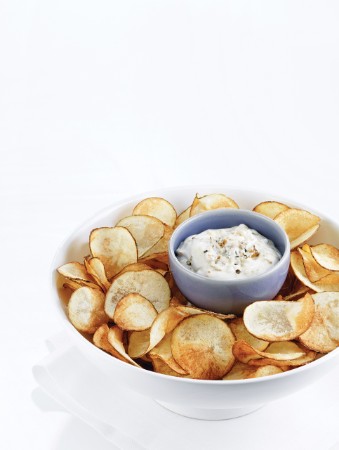 Classic Deep-Fried Potato Chips & Caramelized Onion Dip
Winter 2012
BY: Heather Trim
Yes, deep-frying does require a bit of an effort—but serve these chips with our retro inspired sour cream and onion dip and it will all be worthwhile. To bake chips instead of frying, (see recipe below)
CARAMELIZED ONION DIP
1½ tsp (7 mL) butter
1½ tsp (7 mL) olive oil
½ sweet onion, thinly sliced 
½ tsp (2 mL) granulated sugar
¼ tsp (1 mL) salt
½ cup (125 mL) sour cream
2 tbsp (30 mL) mayonnaise
1 garlic clove, minced
Generous grinding black pepper
Pinch of salt

CHIPS
3 medium potatoes, peeled if desired
8 cups (2 L) canola oil
Fine sea salt
1 To make dip: in a large frying pan over medium heat, melt butter with oil. When it begins to bubble, add onion, sugar and salt. Stir. Reduce heat to medium-low and continue cooking, stirring more frequently near the end of cooking until onions turn a deep
golden, 10 to 12 minutes. Cool, then chop and stir into sour cream along with mayonnaise, garlic, pepper and salt. Refrigerate until ready to use.

2 For chips: for the best slices use a mandoline fitted with the slicing blade set at ⅛ inch (3 mm). Slice potatoes keeping their round shape. Place in a bowl of ice cold water for about 30 minutes.

3 Place oil in a large deep pan such as a Dutch oven (or follow instructions on deep-fryer). It should not come more than a third up sides of pan and needs to be about 1½ inches (4 cm) deep. Set over medium. Heat oil to 350° to 360°F (180° to 185°C) using a deep-fry thermometer or drop a cube of bread into the oil—it should turn brown in about 1 minute.

4 Drain potatoes very well and pat dryreally well. Using tongs, place about a quarter of the potatoes in the oil at a time. Fry, stirring occasionally until a deep golden brown, 5 to 8 minutes. Using a large slotted spoon or tongs, remove and place on a prepared paper-towel-lined baking sheet.Pat any excess oil, then place chips while still hot in a large bowl. Toss with generous pinches of salt. Repeat with remaining potatoes.




Makes about 5 cups (1.25 L)
CRISPY BAKED POTATO CHIPS
Preheat oven to 400°F (200°C). Place 1 or 2 large baking sheets in the oven to get hot.Meanwhile slice potatoes ¼ inch (5 mm) thick (any thinner, they're tricky to flip). Brush hot baking sheets with olive oil. Lay potatoes in an even layer, leaving about ½ inch (1 cm) between slices. Lightly brush slices with oil, then sprinkle with salt. Bake potatoes until they begin to turn golden, about 15 minutes. Flip—they may stick a bit, if so wait a minute or 2 then flip. Rotate baking sheets and continue to bake until a deep golden brown; this could be 5 to 15 more minutes with chips being ready at different times. Enjoy right away.
DEEP FRYING 101
• Pay attention; don't leave oil unattended.
• Cooking times are a guideline.
• Oil spatters when you put food into it so be ready. Use long handled tongs or spoons.
• Oil does not like water; the combination could result in a fire and/or explosion. Pat the potatoes really dry.
• Don't overcrowd pot. The food cooks better if it has room to move.
• Cool oil completely in pot.
• Oil can be reused, strained through coffee filters to remove any grit. Return to original container and store in a cool dark place. Length of storage time varies depending on what you've fried—for potatoes up to 3 months or5 or 6 uses.
• Disposing of used oil varies by region, so call your local garbage-pickup service for information.
SHARE