Classic Chicken Wings
JANUARY 2018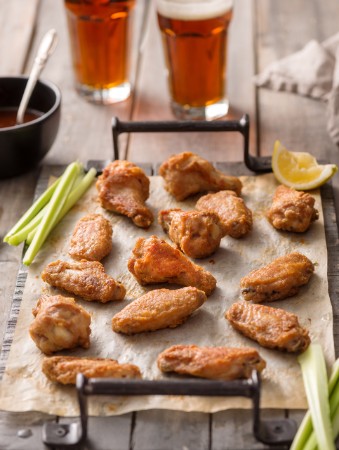 Classic Chicken Wings
JANUARY 2018
This recipe is a fan favourite!
2 lb (1 kg) chicken winglets and drumettes
½ cup (125 mL) buttermilk
Zest and juice from 1 lemon
1 clove garlic, minced
Salt and pepper
1 cup (250 mL) all-purpose flour
1 tsp (5 mL) cayenne pepper
½ cup (125 mL) panko bread crumbs
2 cups (500 mL) vegetable oil for frying
¼ – ½ cup honey for dipping
1. In a large bowl, mix chicken wings with buttermilk, lemon zest and juice, garlic and seasoning. Refrigerate for two hours.
2. Place the flour, cayenne and panko in a plastic bag and shake the chicken wings in the flour to coat.
3. In a large skillet, fry the chicken wings in hot, 1 inch deep oil until cooked and golden brown. Drain and serve with honey.
SHARE