Cider-Braised Ontario Pork Chops with Apples and Garlic
Winter 2009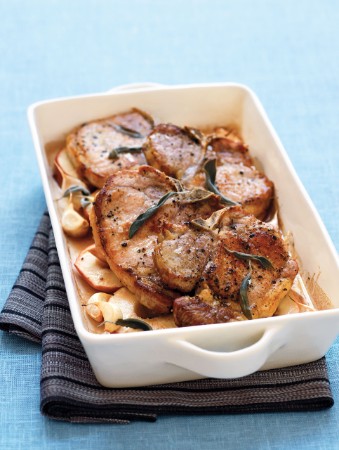 Cider-Braised Ontario Pork Chops with Apples and Garlic
Winter 2009
BY: Jennifer McLagan
Heritage breeds of pork, like Berkshire, reveal just how good pork can taste. The chops often have a good layer of fat: leave it on for cooking as it adds to their flavour.
4 Berkshire pork chops, cut 1 inch (2.5 cm) thick
Sea salt and freshly ground pepper
1 to 2 tbsp (15 to 25 mL) lard or olive oil
1 head of garlic, broken into cloves, unpeeled
1 cup (250 mL) hard dry cider
2 cooking apples, cored
12 fresh sage leaves
1. Preheat the oven to 400°F (200°C).

2. Pat the pork chops dry and season with salt and pepper. (If they still have the rind, cut the rind through into the fat in several places.) In a large frying pan over medium-high heat melt half the lard and then brown the chops, in batches and adding more lard, if necessary, 2 to 3 minutes per side.

3. While the chops are browning, place the garlic cloves in a small saucepan, pour in the cider, and bring to a boil. Lower the heat and simmer for4 minutes. 4. Cut each apple crosswise into 4 slices.

5. Place the apple slices in a baking dish and then place the browned chops on top. Remove the frying pan from the heat and pour in the garlic and cider, stirring to deglaze the pan. Pour this mixture over the chops; there should be just enough liquid to cover the bottom of the dish. Top the chops with the sage leaves and bake for 30 to 40 minutes or until the juices from the pork chops just run clear.

6. Serve each chop with two apple slices, then spoon over the liquid with 3 sage leaves per chop and divide the garlic between the plates. To squeeze the garlic out of the skins just press with your fork.
SHARE