Chunky Cucumber, Watermelon & Feta Salad
Été 2009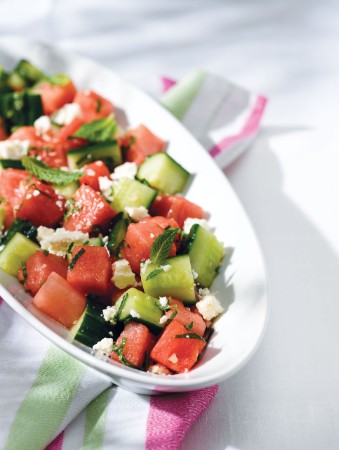 Chunky Cucumber, Watermelon & Feta Salad
Été 2009
BY: Heather Trim
Leftover whole watermelon can be cut up and tossed with a few more ingredients for a refreshing summer salad.
1⁄2 English cucumber
1 seedless watermelon wedge,
4 to 5 inches (10 to 12 cm) wide
1 tbsp (15 mL) red wine vinegar
1 small garlic clove, minced
3 tbsp (45 mL) olive oil
1⁄4 tsp (1 mL) each salt and pepper
1⁄4 cup (50 mL) shredded mint leaves
1⁄3 cup (75 mL) crumbled feta cheese (optional)
1. There is no need to seed or peel cucumber. Slice cucumber lengthwise, then again lengthwise. Finally cut crosswise into chunks, about 1 inch (2.5 cm) in size. Cut watermelon into the same size chunks as cucumber. Place both in a large bowl and toss.

2. Whisk vinegar with garlic, oil, salt and pepper. Drizzle over watermelon mixture and stir. Add mint and feta and gently toss. Tumble onto a platter and serve at room temperature.
SHARE