Chorizo Sausage Rolls
Temps des Fêtes 2012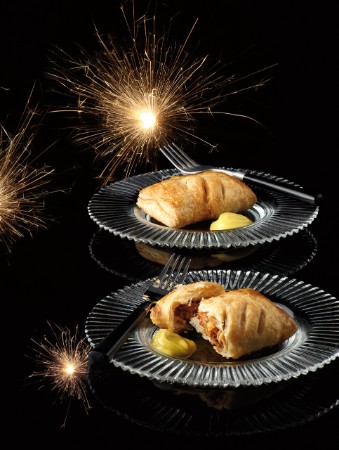 Chorizo Sausage Rolls
Temps des Fêtes 2012
BY: Nicole Young
This sophisticated, urbane reinvention of pigs-in-a-blanket calls out for Cava! Made with sweet pork and a generous infusion of pork fat, traditional Spanish chorizo sausage can be spicy or mild, smoky or plain—you choose!— but either way, clean, crisp, Freixenet Cordon Rosado will cut right through while softening the impact of this snack's assertive flavours. Cold-fermented in the traditionalmethod—the same method used for Champagne—from Trepat and Garnacha grapes, this dry, light, fruity and super-affordable sparkler offers lovely, round flavours of red berries, spirited bubbles and a lasting finish.

Try this Spanish twist on an entertaining classic. The pre-rolled pastry makes these quick and simple to prepare. They can also be made ahead and frozen. (Freeze them on a baking sheet in a single layer and then transfer to a re-sealable bag or container) This recipe can easily be doubled so that you have lots on hand for when unexpected guests pop by. Add 5 minutes of extra cooking time if cooking from frozen.
1 lb (500 g) fresh chorizo sausage, casings removed
1 cup (250 mL) grated Manchego cheese
¼ cup (60 mL) fresh chopped cilantro
1 lb (500 g) frozen pre-rolled puff pastry, thawed according to pkg instructions
1 egg yolk
1 tbsp (15 mL) water
1 tbsp (15 mL) coarse salt
Spicy chili sauce or mustard
1 In a large bowl, gently stir together sausage mixture with Manchego and cilantro.

2 Using the tip of a sharp knife, cut each piece of pastry into 6 squares. Divide the chorizo mixture over each piece of pastry. Fold each in half to enclose the filling, making 12 rectangles. Using the knife, make shallow slits in the top of each about ½ inch (1-cm) apart.

3 Transfer pastries to a parchment-lined baking sheet. In a small bowl, whisk together the egg yolk and water. Brush over each pastry and sprinkle with salt.

4 Heat oven to 400°F (200°C).

5 Bake in oven until the pastry is dark golden and the filling is cooked through, about 20 minutes. Serve with a spicy chili sauce or mustard.
SHARE