Chocolate Torte with Dried-Cherry Port Sauce
Temps des Fêtes 2004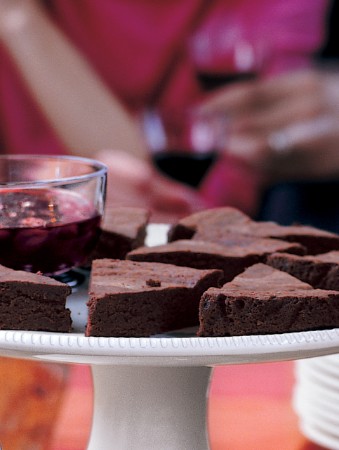 Chocolate Torte with Dried-Cherry Port Sauce
Temps des Fêtes 2004
BY: Marilyn Bentz-Crowley
Ah, the intensity yet elegance of a chocolate truffle dessert! A version of this amazingly simple torte is a signature sweet with Chefs Stev George and Deanna Harrington, owners of the elegant Casa Bella Inn in Gananoque, Ontario. A caramel sauce can replace the port sauce for the younger set.
Dried Cherry Port Sauce
1½ cups (375 mL) port
½ cup (125 mL) granulated sugar
½ cup (125 mL) dried cherries or cranberries

Torte
3 eggs in shells
9 oz (275 g) high-quality semi-sweet or bittersweet
chocolate, chopped
¾ cup (175 mL) unsalted butter
1 tsp (5 mL) pure vanilla extract
One 500 mL container rich vanilla ice cream


1. Bring port and sugar to a rolling boil in a large saucepan over high heat; boil 5 minutes uncovered. Add cherries, remove from heat. Cool. (Store in a covered jar in refrigerator for up to a week or more.)

2. Place eggs in a bowl and cover completely with hot tap water; set aside for about 10 minutes.

3. Preheat oven to 375ºF (190C).

4. Line an 8-inch (20-cm) layer-cake pan with foil, keeping edges slightly above pan for later grasping; coat foil with cooking spray.

5. In a small pan over low heat, melt chocolate with butter. Stir until smooth. Add vanilla. Drain eggs, discarding tap water, and crack into a large mixing bowl. Beat with an electric mixer until triple in volume. Fold in melted chocolate mixture until just combined; pour into lined pan.

6. Place filled pan into a larger pan with sides. Pull out oven rack; place pans on rack. Pour about ¾-inch (2-cm) boiling water into outer pan, forming a hot water bath. Carefully push rack back into oven. Bake 12 to 14 minutes or until edges are raised and centre is just set when gently touched. Do not over-bake. Remove pan to a cooling rack. Then refrigerate torte at least 2 hours for ease in cutting. (Chilled torte keeps well for 2 to 3 days.)

7. To cut, lift cold torte out of pan using foil edges; remove foil and transfer torte to serving plate. Cut into wedges, then lightly cover with plastic wrap. Let sit at room temperature at least an hour to restore soft buttery texture. Serve with a small dollop of ice cream and a drizzle of cherry port sauce.

To double recipe:
Double ingredients; make batter all at once. Divide batter between 2 prepared 8-inch (20-cm) layer-cake pans.
SHARE