Chocolate Pretzel Salami
Temps des Fêtes 2007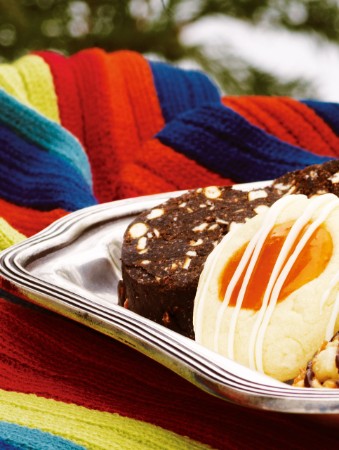 Chocolate Pretzel Salami
Temps des Fêtes 2007
BY: Anna Olson
Every holiday cookie tin needs a no-bake cookie, and this one is a lot of fun. Salted pretzels offset the chocolate intensity of the brandy-soaked chocolate cookie crumbs in what is essentially a twist on a traditional rum ball. The difference? When sliced, these cookies look like a dessert version of Genoa salami.
1 cup (250 mL) good quality chocolate chips
½ cup (125 mL) sugar
3 tbsp (45 mL) golden corn syrup
½ cup (125 mL) brandy
2 tsp (10 mL) instant coffee powder
2½ cups (625 mL) chocolate cookie crumbs
1¾ cups (425 mL) pretzel pieces, pulsed in food processor
1. Melt chocolate chips in microwave on medium, stirring every 10 seconds until smooth. Transfer chocolate to a large bowl and stir in sugar and corn syrup. Stir brandy and instant coffee together to dissolve, then stir into chocolate mixture. Stir in cookie crumbs until blended, then mix in pretzel pieces. Dough should be shiny and still pliable.

2. Lay out a sheet of plastic wrap and spoon a third of mix onto wrap. Roll up in the shape of a log about 8 inches (20 cm) long by 1½ inches (4 cm) across and repeat with remaining two-thirds of doug. Chill for 3 hours.

3. To serve, unwrap dough and slice into coins ¼ inch (5 mm) thick. Cookies will keep up to 2 weeks in an airtight container.
Makes about 4 dozen slices
SHARE