Chocolate-Mint Pots de Crème
Holiday 2018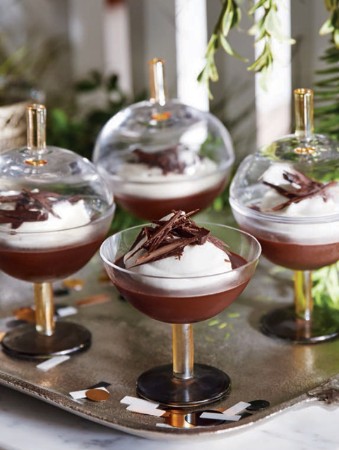 Chocolate-Mint Pots de Crème
Holiday 2018
BY: Signe Langford
You'll need either a double boiler or a bainmarie— a bowl set over a steaming pot of water on the stove—to make this elegant but easy dessert, and that's just about the most complicated aspect of this perfect little after-dinner indulgence. Go ahead and make these up to two days ahead, but if you do, cover each one, tightly, with plastic wrap and keep refrigerated. This recipe will make a little extra; we suspect there will be folks going in for seconds. When freshly made, still warm and runny, this chocolate "sauce" is amazing over ice cream, a simple vanilla cake or poached or roasted fruit.
1½ cups (375 mL) dark chocolate chips
1 cup (250 mL) milk-chocolate chips
½ cup (125 mL) crème de menthe, white or green
½ cup (125 mL) 18% cream
2 cups (500 mL) 35% (whipping) cream; divided
1 tbsp (15 mL) sugar
1. Arrange serving vessels of choice on a platter or tray that will fit in your refrigerator. They will need to cool and set in the fridge. We've based the recipe's yield on using espresso cups or other small vessels about the same size.

2. Into the top of a double boiler or bain-marie on a gentle simmer, add both types of chocolate chips and crème de menthe. Remember, the simmering water in the pot below should not touch the bottom of the bowl; it's the steam that is very gently heating the chocolate.

3. Use a whisk to stir every now and then as the chocolate melts, incorporating the liqueur.

4. Once the chocolate and liqueur mixture is smooth, add the 18% cream and ½ cup (125 mL) of the 35% cream; whisk to combine and continue to stir and cook over the simmering water for 10 to 15 minutes or until heated through, completely smooth, creamy and combined.

5. Transfer chocolate mixture to a jug with a spout to make for easy cup-filling. While still hot, fill each cup, glass or tiny bowl almost up to the top, leaving some room for whipped cream and a garnish of your choice.

6. Allow to come to room temperature, uncovered, on the counter. Then refrigerate to chill. Chill for at least 3 hours. If holding longer than that, cover with plastic wrap.

7. When ready to serve, whip the remaining 1½ cups (375 mL) of 35% cream with the sugar, until soft peaks form. Either plop a dollop onto each pot de crème or bring a bowl of whipped cream out with the pots and let folks help themselves. You might also wish to gild this lily with a chocolate mint wafer, green chocolate candy, chocolate shavings or after-dinner chocolate mint sticks.
Makes about 3 cups (750 mL) of chocolate, or about 12 pots, depending on size
SHARE