Chocolate Espresso Yule Log
Holiday 2012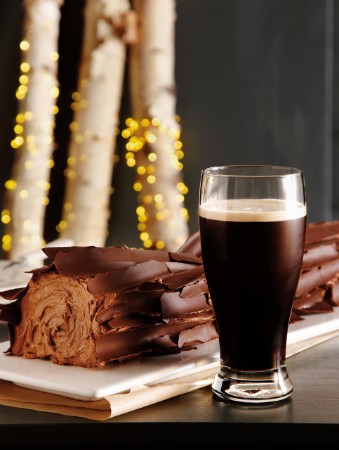 Chocolate Espresso Yule Log
Holiday 2012
BY: Monda Rosenberg
Yule logs sing out "festive season." Let chocolate shards create "peeling bark" over a satiny rich chocolate frosting. Under the frosting lies a coffee-liqueur-laced feathery cake all rolled up with an espresso buttercream. What could be better than to wind up dinner on a chocolate espresso note?
LOG
½ cup (125 mL) all-purpose flour
½ tsp (2 mL) ground cinnamon
½ tsp (2 mL) salt
6 eggs, separated
½ tsp (2 mL) pure vanilla extract
½ cup (125 mL) granulated sugar
Icing sugar, about 3 tbsp (45 mL)

BUTTERCREAM FILLING AND FROSTING
½ cup (125 mL) granulated sugar
½ cup (125 mL) dark brown sugar
4 egg whites
2 tbsp (30 mL) espresso instant coffee
1½ cups (375 mL) unsalted butter, at room temperature
1 tsp (5 mL) pure vanilla extract
4 squares of semi-sweet melted chocolate, finely chopped
2 tbsp (30 mL) coffee liqueur or Bailey's Irish Cream liqueur (optional)
Chocolate Shards (recipe follows)
1 For cake, line a 10 x 15-inch (25 x 38-cm) jelly-roll pan with parchment paper.

2 Preheat oven to 350°F (180°C).

3 Blend flour with cinnamon and salt in a small bowl.

4 Place eggs yolks in the small bowl of an electric mixer and beat on high until pale in colour and thickened, about 5 minutes. Beat in vanilla. Pour into a large wide bowl. Clean beaters. Place egg whites in a clean large mixer bowl. Beat on high speed until soft peaks form when beaters are lifted, about 2 minutes. Continuing to beat, very gradually add granulated sugar. Then beat until stiff peaks form.

5 Using a large spatula, place one-third of the whites in the yolk mixture. Gently stir in to lighten the yolks. Sift half of the flour mixture overtop. Gently fold in just until combined. Repeat additions, ending with whites and mixing in just until no streaks remain.

6 Spread evenly in the parchment-lined pan, right to the edges. Bake in centre of oven until cake springs back when gently tapped in the centre, about 15 minutes. Cool cake in pan for 5 minutes. Sift about 2 tbsp (30 mL) icing sugar over warm cake. Using the point of a knife, loosen cake edges from parchment. Lay a clean tea towel over the cake, then place a large baking sheet overtop. Invert so cake tips onto the baking sheet. Lift off the original baking pan. Peel off parchment. Dust the edges of the towel with icing sugar. Starting at the long end, roll up the towel and cake jelly-roll fashion. Place on a baking rack until cool or overnight if you wish.

7 For filling and frosting, place a large saucepan containing several inches of water over medium heat. Whisk sugars, egg whites and instant coffee in a large metal or heatproof bowl that will fit comfortably on the pan. Place over simmering water and whisk constantly until warm, about 4 minutes. Remove from heat and switch to electric beaters. Beat until mixture reaches room temperature, about 5 minutes. Then continuing to beat at medium, add the butter, about ¼ cup (60 mL) at a time. Mixture will become satiny. Beat in vanilla. Place about one-third in another bowl to use for filling. Melt chocolate in a small bowl that will fit comfortably over a pan of simmering water. Stir often until melted, then gradually stir into the larger portion of the buttercream. This will be the frosting. Use both at room temperature. Refrigerate if making ahead, then bring to room temperature and beat until spreadable.

8 To assemble cake, gently unroll but leave on the towel. Lightly brush with liqueur, if desired. Spread coffee buttercream onto cake. Starting at the long end, roll up cake without the towel. Place on a platter, seam-side down. Spread with chocolate buttercream, swirling to resemble bark. Then carefully place chocolate shards on frosting to mimic "peeling bark." Refrigerate at least a half hour to firm or up to1 day.

CHOCOLATE SHARDS

Lay 2 pieces of waxed paper about 12 inches (30 cm) long on a counter. Pour 3 oz (90 g) of melted semi-sweet chocolate on 1 piece and spread to within a ½ inch (1 cm) of the edges. Lay the second piece of waxed paper on top and smooth out. Starting with the short end, roll up paper and chocolate jelly-roll fashion. Place seam-side down on a baking sheet and refrigerate until firm, at least 2 hours or overnight. To create shards, remove from refrigerator and quickly unroll. Transfer shards to a plate using a long metal spatula.
SHARE