Chocolate Chip Cookie Crisp
Summer 2018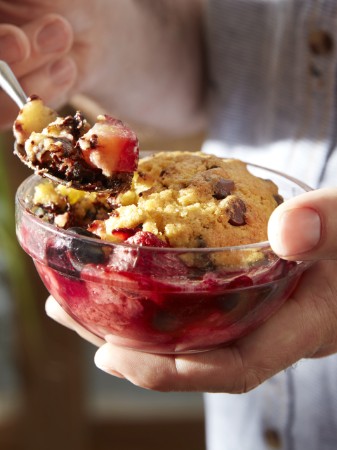 Chocolate Chip Cookie Crisp
Summer 2018
BY: Monda Rosenberg
There's nothing better than a summer-fruit crisp filled with luscious ripe berries—except for this version, which raises the flavour bar with a buttery chocolate-chip-cookie topper. Use whatever combination of fruit you like best.
FRUIT
6 cups (1.5 L) mixed berries such as raspberries, blueberries and coarsely chopped strawberries
2 cups (500 mL) chopped peaches, plums, apples or pears
2 tbsp (30 mL) all-purpose flour
2 tbsp (30 mL) granulated sugar
½ tsp (2 mL) cinnamon

COOKIE TOPPER
½ cup (125 mL) butter, softened
1/3 cup (80 mL) granulated sugar
1 egg, lightly beaten
1 tsp (5 mL) vanilla
1 cup (250 mL) all-purpose flour
½ tsp (2 mL) baking soda
¼ tsp (1 mL) salt
1/3 cup (80 mL) semi-sweet or dark chocolate chips



1. In a large bowl, stir all fruit together. In a small bowl, stir flour with sugar and cinnamon. Gradually stir into fruit. Set out 8 custard cups or ramekins that will hold 6 to 8 oz (170 to 225 mL) each. Fill with fruit mixture, mounding slightly in the centre. Wipe off the rims.
2. Preheat oven to 350°F (180°C).
3. For cookie topping, beat butter in a bowl until creamy. Beat in sugar and beat about 2 minutes. Beat in egg and vanilla. In a small bowl, stir flour with baking soda and salt. Using a spoon or spatula, gradually stir into egg mixture. Stir in chips.
4. Spoon a scant ¼ cup (60 mL) dough onto fruit in each cup. (You don't have to smooth it out, since it will spread as it bakes.) Set cups in a large shallow-sided baking dish or roasting pan. Place on oven rack in middle of oven. Pour enough hot water into pan to come to about ½ inch (1 cm) up sides of cups. Bake until golden, 30 to 35 minutes. Remove from oven. When cool enough, remove cups from water bath. Enjoy warm, store at room temperature up to a day, or refrigerate for longer storage.



SHARE