Chocolate Caramel Tarts
Début de l'été 2002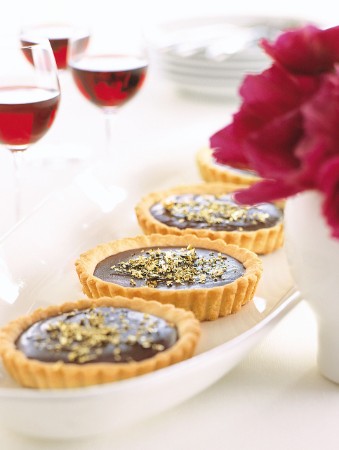 Chocolate Caramel Tarts
Début de l'été 2002
BY: Lucy Waverman
These decadent tarts combine two favourite flavours, caramel and chocolate. When making tart shells you need a slightly sturdier pastry than a regular sweet dough. It needs to be removed easily from the tartlet shells and weighting the shells with rice or beans takes too much time. This dough is made like a cookie dough to avoid these problems. As tartlet tins come in different sizes, use what you have - even small muffin tins work. Measure the top of the tin and use a cutter 1-inch (2.5-cm) bigger than the cup.
Pastry
3/4 cup (175 mL) unsalted butter
1/2 tsp (2 mL) salt
1/4 cup (50 mL) granulated sugar
2 cups (500 mL) all-purpose flour
1 tbsp (15 mL) cold water

Caramel
1/2 cup (125 mL) granulated sugar
1/4 cup (50 mL) water
1 tsp (5 mL) corn syrup
1/3 cup (75 mL) whipping cream

Chocolate
8 oz (250 g) European bitter or semi-sweet chocolate
1 cup (250 mL) whipping cream
1 egg, beaten
1/2 tsp (2 mL) vanilla essence


1. Place butter, salt and sugar in food processor. Process until mixture is light and fluffy. Add flour and water and just combine. Remove from processor and shape into a flat disc. Chill for 30 minutes.
2. Roll out pastry about 1/8-inch (3-mm) thick. Using a cookie cutter, cut circles to fit your tartlet tins. Ease pastry into tins and if it breaks then pat together again. If there is enough pastry make a rim around tart. Chill pastry for 30 minutes to allow it to relax. Prick base of pastry with a fork.
3. Preheat oven to 375°F (190°C).
4. Bake tartlets 15 to 20 minutes or until golden. Cool in tins. Remove before filling them.
5. Combine sugar, water and corn syrup in a heavy pot. Bring to boil and boil until sugar turns an amber colour, about 4 to 5 minutes. Remove from heat and stir in cream until well incorporated. Stir occasionally as mixture cools. Chill until mixture thickens.
6. Break up chocolate and place in a heavy pot with 1 cup (250 mL) cream. On low heat slowly melt chocolate, stirring until the mixture is smooth.
7. Stir in egg and vanilla and continue to stir together until mixture is slightly thickened, about 2 minutes. Cool.
8. Place 1 tsp (5 ml.) caramel in base of tart. Fill with chocolate mixture. Refrigerate tarts until chocolate mixture is set.
9. For an optional garnish, pipe tart with whipping cream or top with gold flakes or balls.
SHARE