Chili Pork & Egg Burgers
Summer 2019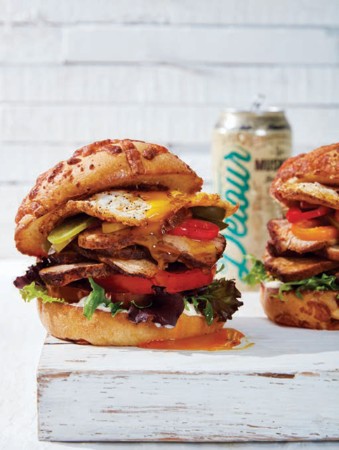 Chili Pork & Egg Burgers
Summer 2019
BY: Jennifer MacKenzie
This is not a traditional ground-meat-patty-on-a-bun kind of burger, but it is meat and it's on a bun and it has all of the good burger garnish, plus there's a fried egg, so let's just be rebels and call it a burger. You'll definitely call it delish. Add a side salad and call it dinner.
⅓ recipe Chili-Rubbed Pork Loin Roast
¼ cup (60 mL) mayonnaise, divided
4 onion buns or brioche hamburger buns, split
2 tbsp (30 mL) butter
4 eggs
Ancho chilli powder
Salt
1 cup (250 mL) baby greens or 4 soft lettuce leaves
4 to 8 slices of tomato
2 dill pickles, sliced, or ¼ cup (60 mL) pickled hot pepper rings (or both)
1 Thinly slice pork roast across the grain and set aside.

2 Spread a thin layer of mayonnaise on the cut sides of the buns.

3 Heat a large nonstick skillet over medium heat. Add buns with the mayonnaise-side down, in batches as necessary, and fry, pressing lightly, for about 1 to 2 minutes or until golden. Transfer to a cutting board and cover with a clean tea towel to keep warm.

4 Return skillet to medium heat, add pork slices, overlapping as necessary. Heat pork, turning once, for 1 for 2 minutes until warmed and lightly browned. Transfer to a plate and cover to keep warm.

5 Add butter to the skillet and melt, swirling to coat. Crack each egg into the pan and sprinkle with ancho powder and salt to taste. Reduce heat to medium-low and fry just until browned around the edges and yolk starts to set, or to the desired doneness, flipping for over-easy or overhard if you like. Remove from heat.

6 Spread remaining mayonnaise on grilled buns. Build burgers, piling with greens, tomato slices, pork, pickles and fried egg.
SHARE