Chicken with Persimmon Sauce
Holiday 2004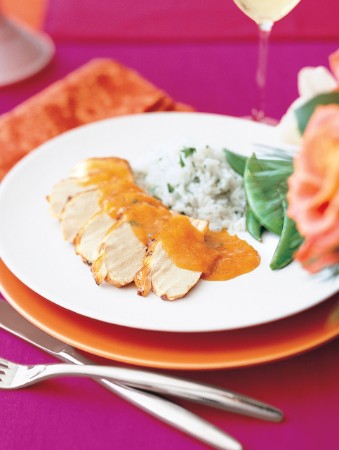 Chicken with Persimmon Sauce
Holiday 2004
BY: Lucy Waverman
Use the pulp of the hachiya persimmon for this recipe. The sauce is a glorious dark colour with a strong flavour that enhances the chicken. Serve with rice and sugar snap peas and garnish with fuyu persimmon if you have one on hand.
2 tsp (10 mL) garam masala or curry powder
1 tbsp (15 mL) honey
1 tsp (5 mL) dry mustard
1 tbsp (15 mL) lemon juice
2 tbsp (25 mL) persimmon pulp
2 tbsp (25 mL) olive oil
4 boneless chicken breasts with skin on
Salt and freshly ground pepper

Sauce
½ cup (125 mL) white wine
1 tsp (5 mL) garam masala
1 tbsp (15 mL) wine vinegar
1 tsp (5 mL) honey
1 cup (250 mL) chicken stock
½ cup (125 mL) persimmon pulp
2 tbsp (25 mL) finely chopped coriander
1. Combine garam masala, honey, mustard, lemon juice, persimmon pulp and 1 tbsp (15 mL) olive oil. Brush on chicken. Leave to marinate for 1 hour. Season with salt and pepper.

2. Preheat oven to 400ºF (200ºC).

3. Heat remaining 1 tbsp (15 mL) oil in ovenproof skillet on medium-high heat. Add breasts skin-side down and sear 2 minutes or until skin is golden. Turn over and sear second side for 1 minute.

4. Place skillet in oven and bake chicken for 15 to 20 minutes, turning once or until juices run clear. Remove chicken to a serving platter.

5. Skim off any fat in skillet, leaving any juices. Add wine, garam masala, vinegar, honey and chicken stock. Bring to boil over high heat and boil for 5 minutes or until reduced by half and slightly thickened. Stir in persimmon pulp and coriander. Simmer together for 1 minute. Slice chicken and serve with sauce.
SHARE