Chicken Soup with Matzo Balls
Spring 2000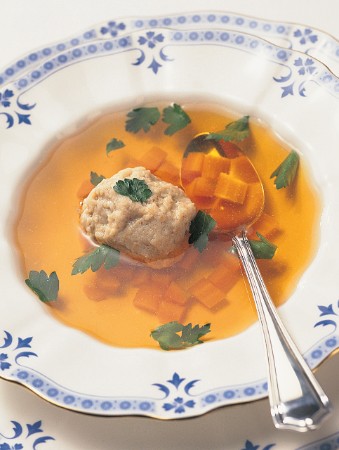 Chicken Soup with Matzo Balls
Spring 2000
BY: Lucy Waverman
Matzo balls are a kind of dumpling traditionally served at Passover with chicken soup. The challenge is to create the perfect matzo ball-light, airy ones that float into your mouth. The secret ingredient in these light matzo balls is soda water; ice water can be substituted. These can be made one day in advance of serving.
1 cup (250 mL) matzo meal
1/4 cup (50 mL) melted shortening, chicken fat or vegetable oil
4 eggs
1/2 cup (125 mL) soda water
1/2 tsp (2 mL) salt
1/4 tsp (1 mL) freshly ground pepper
10 cups (2.5 L) chicken soup
In a large bowl, mix together all the ingredients except the soup. Let sit for 30 minutes.
Bring a large pot of water to a boil. With wet hands, form the matzo balls into 2-inch (5-cm) balls and drop into the boiling water. Turn the heat to medium-low and simmer for 25 minutes, or until the balls double in size and are cooked through.
Ladle the soup into bowls and serve one ball in each bowl.
Makes about 16 matzo balls.
SHARE