Chicken Liver Pâté with Cherries
Temps des Fêtes 2000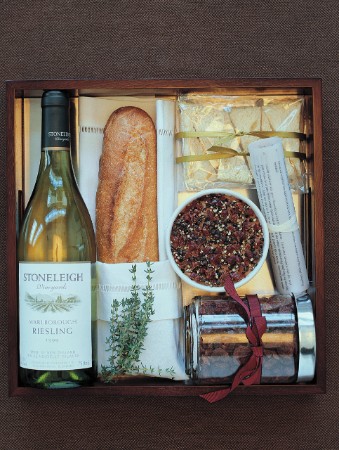 Chicken Liver Pâté with Cherries
Temps des Fêtes 2000
BY: Lucy Waverman
Chicken liver pâté is a welcome gift at Christmas time. Pack it in little containers marked "refrigerate," garnish and pour a little melted butter on top to preserve. The pâté will keep for about a week. You can substitute currants or cranberries for the cherries, and sherry or brandy for Gewürztraminer. Whatever wine or spirit you use, include a bottle with the pâté.
1/2 cup (125 mL) Gewürztraminer
1 cup (250 mL) dried cherries
2 lbs (1 kg) chicken livers
1 cup (250 mL butter
1 medium onion, finely chopped
2 cloves garlic, finely chopped
1 tsp (5 mL) dried thyme
1/2 cup (125 mL) whipping cream
Salt and freshly ground black pepper

Garnish:
Cracked peppercorns
1. Bring Gewürztraminer to boil and reduce by half. Pour over cherries and leave to marinate for 30 minutes. Drain cherries and reserve liquid for another use.

2. Cut chicken livers in half and remove any fat or any green discolouration.

3. Heat 1/4 cup (50 mL) butter in skillet on medium-high heat. Sauté onions and garlic for 1 minute, then add livers. Sauté for about 3 minutes, or until still pink inside. Remove from heat and scrape contents of skillet into food processor or blender.

4. Add remaining 3/4 cup (175 mL) butter, thyme, whipping cream, salt and pepper. Process until smooth.

5. Stir in half of the cherries, reserving remainder for garnish. Taste for seasoning, adding more salt and pepper as needed. Pack into an oiled, plastic-lined terrine or oiled individual moulds. Refrigerate for 12 hours. Turn out and decorate with remaining cherries and cracked peppercorns. Individual moulds need not be turned out.
SHARE