Chicken Caesar Cocktail
Début de l'été 2013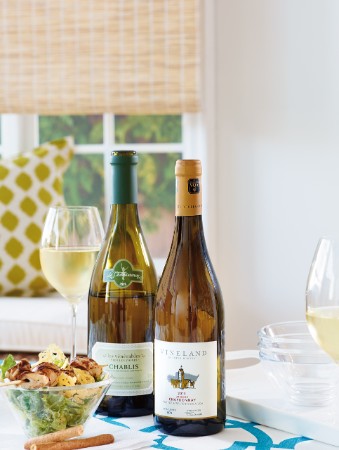 Chicken Caesar Cocktail
Début de l'été 2013
BY: Julia Aitken
Taking its cue from the retro trend, this appetizer channels the shrimp cocktail of the 1960s but turns it into a nifty take on Caesar salad that's 100-percent today. Thigh meat makes the chicken skewers more succulent, but feel free to substitute boneless, skinless chicken breasts, if you prefer. Be sure to use real Parmesan for the wafers and grate it yourself from a block.
CHICKEN SKEWERS
2 tbsp (30 mL) olive oil
1 tsp (5 mL) finely grated lemon zest
2 tbsp (30 mL) fresh lemon juice
1 tbsp (15 mL) minced shallot
1 large clove garlic, minced
1 tsp (5 mL) dried oregano
1 tsp (5 mL) liquid honey
Pinch hot pepper flakes
1 lb (500 g) skinless, boneless chicken thighs, about 5
6 short bamboo skewers
Kosher salt and freshly ground black pepper to taste

PARMESAN WAFERS
¾ cup (175 mL) finely grated Parmesan cheese

CAESAR SALAD
⅓ cup (80 mL) olive oil
2 hard-cooked eggs, peeled and chopped
2 tbsp (30 mL) fresh lemon juice
2 tsp (10 mL) anchovy paste
1 tsp (5 mL) Worcestershire sauce
1 clove garlic, coarsely chopped
Freshly ground black pepper to taste
9 cups (2.25 L) lightly packed washed, dried and shredded romaine lettuce, about 1 head
12 short bread sticks
1 For chicken skewers, whisk together olive oil, lemon zest and juice, shallot, garlic, oregano, honey and hot pepper flakes in a shallow dish.

2 Cut chicken thighs into 1-inch (2.5-cm) pieces. Add chicken to dish, stirring to coat well with marinade. Refrigerate, covered, for at least 2 hours or up to 24 hours.

3 For Parmesan wafers, preheat oven to 350°F (180°C).

4 Line a large unrimmed baking sheet with parchment paper. Spoon 6 even-sized mounds of cheese, well apart, onto baking sheet. Spread each mound out to form six 3-inch (8-cm) circles. Bake until melted and golden, about 5 minutes. Let cool completely on baking sheet.

5 For Caesar salad, pulse oil, eggs, lemon juice, anchovy paste, Worcestershire sauce, garlic and pepper in a food processor until smooth. Taste and add more pepper if necessary. Scrape dressing into a large bowl and refrigerate until ready to serve.

6 About 1 hour before cooking, put bamboo skewers in a bowl of cold water to soak.

7 Preheat barbecue to medium or heat an oiled, ridged grill pan over medium-high heat.

8 Thread chicken onto soaked skewers, dividing evenly. Sprinkle with salt and pepper to taste. Grill, turning often, until golden brown and no longer pink inside, 8 to 10 minutes, reducing heat if chicken starts to scorch.

9 Add lettuce to dressing in bowl and toss well. Divide lettuce among 6 bowls.

10 Carefully peel Parmesan wafers off parchment paper, break each into pieces and scatter over salads. Lay a chicken skewer across each bowl. Serve with bread sticks.
SHARE