Chicken Braised With Apples And Cider
Automne 2008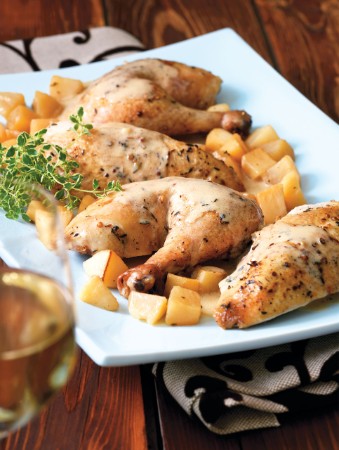 Chicken Braised With Apples And Cider
Automne 2008
BY: Lucy Waverman
You can use chicken breasts or legs with this recipe if preferred but a whole chicken has the best texture. Use an ovenproof casserole that fits the chicken snugly, rather than a larger one. The texture of the chicken remains juicy and the taste is very flavourful. If you do not have a casserole that goes on top of the stove then use a skillet and transfer to your ovenproof dish.
Spice Mixture
1 tsp (5 mL) cracked fennel
1 tsp (5 mL) cracked coriander
2 tsp (10 mL) chopped fresh thyme
1 tsp (5 mL) cracked black pepper

Chicken
One 4 lb (2 kg) whole chicken
1 tbsp (15 mL) vegetable oil
2 tbsp (25 mL) butter
2 Pink Lady or Royal Gala apples, peeled and diced into ½-inch (1-cm) chunks
1 cup (250 mL) apple cider
1 tbsp (15 mL) cider vinegar
½ cup (125 mL) whipping cream
1 tbsp (15 mL) lemon juice
2 tbsp (25 mL) chopped chervil or parsley
Salt and freshly ground pepper
1. Preheat oven to 300ºF (150ºC).

2. Combine fennel, coriander, thyme and black pepper. Reserve 1 tsp (5 mL) spice mixture and season chicken all over with remaining mixture, adding a little inside.

3. Heat oil and 1 tbsp (15 mL) butter in an ovenproof casserole over medium-high heat. Brown chicken about 2 minutes per side or until golden. Remove from pan. Discard fat and wipe out pan.

4. Add remaining butter and apples to pan and sauté for 2 minutes or until tinged with gold. Pour in cider and cider vinegar, add remaining spice mixture and bring to boil. Boil for 1 minute.

5. Return chicken to casserole, cover and bake for 1 hour. Remove lid and bake 15 minutes longer or until juices run clear.

6. Remove chicken and apples from casserole. Add cream to sauce and bring to boil. Boil for 2 minutes or until sauce begins to thicken. Add lemon juice, reserved apples and chervil and simmer for 1 minute more. Season with salt and pepper to taste. Cut chicken into 4 serving pieces and pour sauce over chicken to serve. Surround with apples.
SHARE