Chicken and Greens Soup
Spring 2010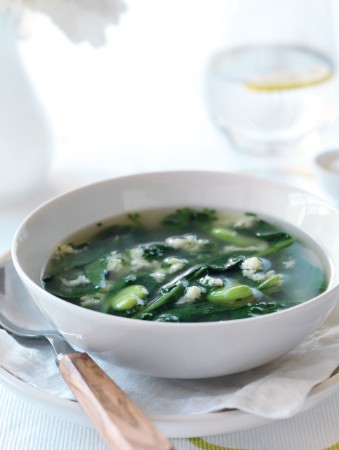 Chicken and Greens Soup
Spring 2010
BY: Lucy Waverman
This soup just feels like spring. It's essential greenness and über-fresh taste are mellowed a little by the spätzle-like cheese-and-egg flecks that bounce over the soup surface. If asparagus is available then asparagus tips are a delightful addition.
½ cup (125 mL) Parmesan cheese
1 tbsp (15 mL) flour
1 egg
¼ cup (50 mL) chopped chives
Salt and freshly ground pepper

Soup
4 cups (1 L) chicken stock
3 cups (750 mL) baby spinach, sliced
½ cup (125 mL) peeled fava beans or defrosted edamame
1. Whisk together Parmesan, flour, egg and 2 tbsp (25 mL) chives. Season with salt and pepper and reserve.

2. Heat chicken stock in a pot over medium heat. Add spinach and fava beans and simmer for 3 minutes or until spinach is wilted.

3. Turn heat to high and whisk in cheese mixture. Bring to boil. The mixture will break up and make little flakes in the soup. Taste for seasoning and garnish with remaining chives.
SHARE