Chewy Pretzels with Yellow Mustard Dip
Spring 2011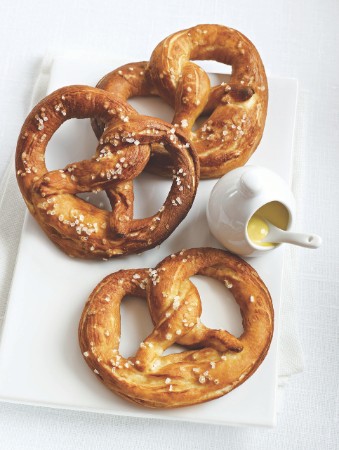 Chewy Pretzels with Yellow Mustard Dip
Spring 2011
BY: Marilyn Bentz-Crowley
Trendy soft pretzels and pretzel rolls make an interesting project with a delicious reward.Malt syrup or powder is the traditional German sweetening, however, ordinary granulated sugar is a good substitute. Here unbaked pretzels are frozen to make sure they keep the twisted shape during boiling. And as pretzels are best on the day of baking, unbaked ones can be kept in the freezer until wanted. Pretzel dough is much firmer than ordinary bread dough, so it is not suitable to be made in a bread machine.
DOUGH
3½ cups (875 mL) all-purpose flour2½ tsp (12 mL) or 1 pkg (8 g) instant yeast
2 tsp (10 mL) salt
¾ cup (175 mL) milk
2 tbsp (25 mL) cold unsalted butter
1 tbsp (15 mL) malt syrup or granulated sugar
⅓ to ½ cup (75 to 125 mL) cold water

BOILING
8 cups (2 L) water
⅓ cup (75 mL) baking soda
Coarse salt, about 1 tbsp (15 mL)

DIP
⅓ cup (75 mL) yellow mustard such as French's
⅔ cup (150 mL) mayonnaise


1 To make dough, spray dough hook of a stand mixer with nonstick baking spray (see TIP for making by hand or with active dry yeast). Add flour, instant yeast and salt. Mix briefly y to combine. Heat milk in microwave for 45 to 60 seconds or until very hot but not boiling. Add butter; when melted, stir in syrup or sugar and add ⅓ cup (75 mL) cold water.

2 Add warm milk mixture to flour while mixer is running. Add additional water if needed, about 1 tbsp (15 mL) at a time, until firm, only slightly sticky, dough forms. Let machine knead dough for 3 to 5 minutes to develop gluten. Leave in place; cover bowl opening with plastic wrap and let dough rise for an hour at room temperature or until doubled in size.

3 Turn machine on for a few turns of hook, just enough to deflate dough (do not overwork). Turn dough out onto a lightly floured surface. Divide into 9 pieces; each is a scant 3 oz (90 g).

4 Roll each piece into a rope with a fat middle about 1 inch (2.5 cm) thick with continuously tapering ends; roll until 12 inches (30 cm) long, and set aside. Repeat with remaining dough. Repeat rolling ropes a couple more times until each is 24 inches (60 cm) long, still with a fatter middle tapering off to the ends.

5 In turn, make a big-U of each dough on board. Wind ends of dough twice, leaving unwound tails each about 3 inches (8 cm) long. Then lift up fat bottom of U and position over tails forming a pretzel shape. Flip as placing on parchment-lined tray so ends are on top of fat portion, not beneath. Rearrange dough as needed to have a perfect pretzel shape. Repeat with all, placing pretzels at least 1 inch (2.5 cm) apart.

6 Loosely cover with plastic wrap; let rise 30 to 35 minutes. Dough should not be doubled in size but should be somewhat puffier than when shaped. Place covered into freezer for at least 2 hours to freeze firm. If freezing longer, transfer frozen pretzels into a freezer-weight plastic bag and seal. Pretzels can be kept frozen for 2 weeks or more.

7 When ready to bake, place racks in centre of oven and preheat to 375°F (190°C).

8 Bring water and baking soda to a boil in a large stainless steel or enamel-lined pot or saucepan over medium-high heat. Bubbles, such as in a bubble-bath, form and are normal. (Do not use aluminum, tin-lined copper or cast-iron pans.) Line 2 baking sheets with parchment paper or foil lightly coated with nonstick spray.

9 One at a time, add a frozen pretzel to boiling water; cook 45 to 60 seconds. Remove with a perforated spatula; drain pretzel bottom, still on spatula, on a folded tea towel. Place on baking sheet; sprinkle top to taste with coarse salt. Repeat, laying pretzels 2 inches (5 cm) or more apart on sheets.

10 Using a recently sharpened knife, give each pretzel a smile by cutting through the edge of thickest part horizontally. Bake pretzels 15 minutes in centre of oven; rotate trays and continue baking for another 3 to 5 minutes or until deeply browned. Cool on a rack.

11 Meanwhile, to make sauce, stir mustard with mayonnaise; serve with pretzels—perhaps in a squeeze bottle for fun. Pretzels are best on the day they are baked.

Makes 9 large pretzels

TIP: If using active dry yeast, proof yeast in ⅓ cup (75 mL) warm water until foamy. Let heated milk with butter and syrup cool down to warmish before adding along with yeasty water to flour and salt. If making dough by hand, hold back some of the flour when stirring into dough to use during kneading.
SHARE