Cheese Tortellini with Mushrooms and Prosciutto
Temps des Fêtes 2004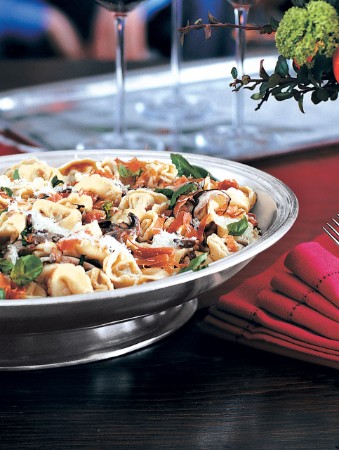 Cheese Tortellini with Mushrooms and Prosciutto
Temps des Fêtes 2004
BY: Marilyn Bentz-Crowley
Painstakingly cured prosciutto - delicate and transparently cut - is usually hidden away in pasta stuffing. Here, it is tossed in at the last minute to stay meltingly tender among various interesting mushrooms such as cremini, button and shiitake.
8 oz (250 g) mixed mushrooms
4 oz (125 g) thinly sliced prosciutto, well-chilled
1½ lb (750 g) cheese tortellini
¼ cup (50 mL) olive oil
2 cloves garlic, minced
2 shallots, minced
½ tsp (2 mL) salt
½ cup (125 mL) dry white wine
½ cup (125 mL) chopped fresh basil
1 cup (250 mL) grated Parmesan, divided
¼ tsp (1 mL) freshly ground black pepper
1. Bring a large pot of salted water to a boil over high heat. Meanwhile, thinly slice mushrooms and prosciutto; keep prosciutto chilled. Cook pasta according to package directions until al dente, usually about 8 to 11 minutes. Drain and rinse under cold running water until cool. (If making ahead, place in a plastic bag; spread out contents so pasta is not in a large lump. Seal and refrigerate along with mushrooms and prosciutto in individual covered containers. Minced garlic and shallots can also be refrigerated; however do not chop basil until just before using.)

2. Heat olive oil in a large frying pan over medium heat. Add garlic, shallots and salt; cook 1 to 2 minutes or until transparent. Add mushrooms; cook 3 to 4 minutes or until losing moisture and softening. Pour in white wine; bring to a boil. Add cool pasta. Using a spatula, frequently lift pasta up from pan bottom and turn for 4 minutes or until hot. Add prosciutto, basil and half of cheese. Toss briefly and turn into a warmed serving bowl. Garnish with remaining grated cheese and grindings of black pepper.

To double recipe:
Double ingredients. Boil pasta in two batches. Make sauce in separate batches to toss with pasta for replenishment as needed during party.
SHARE